The Groomsmen
(2006)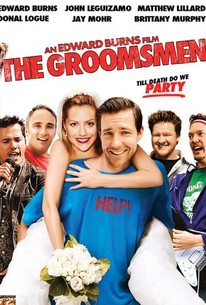 TOMATOMETER
AUDIENCE SCORE
Critic Consensus: Director and star Burns returns to his home turf -- dialogue-driven examinations of the relationships between men and women -- with uneven results.
Movie Info
Five longtime friends enjoy a few days of celebratory carousing as they try to forget their adult responsibilities in this slice-of-life comedy drama from director/writer/actor Edward Burns. Paulie (Burns) is a working-class guy from Long Island who has learned that his longtime girlfriend (Brittany Murphy) is pregnant, and he decides he should do the right thing and marry her. Paulie has asked several of his best friends to stand with him at the wedding, and shortly before the big day, they get together at a local watering hole to give Paulie a proper send-off. Over the course of a weekend, the guys knock back a lot of beer, play a little softball, swat some golf balls, head out fishing and share their thoughts, with each man having some unresolved baggage to deal with. While Paulie is excited about his upcoming marriage, he's scared of how parenthood will change his life. His older brother, Jimbo (Donal Logue), has been arguing with his wife and spending his time in topless bars, but inside he's worried about the fact his wife hasn't been able to get pregnant, and he's convinced it's his fault. Des (Matthew Lillard) is a seemingly happy husband and father, but he seems to be more interested in getting his old rock band back together than spending time with his family. Mike (Jay Mohr) wants to settle down and have kids, but he can't imagine doing so with any woman other than the girl who dumped him some time ago. And while T.C. (John Leguizamo) goes out of his way to like one of the guys, he doesn't have the nerve to tell his best friends that he's gay. The Groomsmen received its world premiere at the 2006 Tribeca Film Festival. ~ Mark Deming, Rovi
People Who Like this movie also like
News & Interviews for The Groomsmen
Critic Reviews for The Groomsmen
Audience Reviews for The Groomsmen
An excellent and heartfelt comedy filled with big laughs and riventing character drama. A gem of a film from Director, Edward Burns. It`s smart, fresh, winning and real. A great film bout love, freindship, and new beginings. The all-star cast gives some of the best acting of their careers showing great comediec ablity and dramatic sensitivity. Edwarn Burns is terrific, ones of his best performances and bests directionals features yet. Jay Mohr is outragious. John Leguizamo is excellent. Donal Louge is brilliant. Matthew Lillard is fantastic. This movie is just pure joy. A tremendously entertaining and compelling buddy movie.
"There's a difference between getting older and growing up." The Groomsmen was a pretty nice little surprise. It worked pretty well as a comedy. The drama is a little off, but not to bad that it ruins the movie as a whole. Edward Burns writes, directs and stars in this film. I'm fine wight he first two, but I wish he wouldn't have acted in it. He's unconvincing and weak as an actor in The Groomsmen. Plus he reminds me too much of Ben Affleck. The rest of the cast was really cool though. John Lugizamo, Brittany Murphy, Matthew Lillard, Donal Logue and Jay Mohr. Obviously that cast isn't a bunch of A-listers, but it's a cool cast for a little Indie comedy. The movie is far from great. It does try to get too dramatic in portions and does get annoying every once in awhile. But for the most part I really enjoyed it. The movie centers around a group of friends during the week before one of them gets married. Secrets are revealed about each other, they fight, they drink and they learn to grow up. The story isn't groundbreaking, the relationships are nothing new; but the movie still works. The Groomsmen was a lot better then I was lead to believe. It's a fun little comedy that may try a little too hard in portions; but at least it tried. That's more then you can say about a lot of mainstream comedies.
Melvin White
Super Reviewer
½
I didn't see the movie while it's still in the theaters because my friends said that it was a waste of time, money, and everything. So, i took their advice and just watched other movies that was aired on the cinemas that month. Then the other day, I saw the Groomsmen on DVD, and i was so intrigued cuz to why is it the worst movie that my friends claims it to be. I bought the DVD. The minute i bought it, i was so angry at myself cuz i thought i wasted my money on something that really isn't that good to watch. So i flipped the DVD and put it inside my dvdrom, and played it. Then to my surprise, it wasn't that dope, it was great! I just let the movie speak for itself. It didn't bored me to death like my friends said that it would. It has great values to share. Really Great Values.. I recommend this movie to be watched from beginning to the end! It's not a waste of time or money. I say, this movie will make your day complete. It's really touching, funny and .... I guess words aren't enough to describe this wonderful movie... So take my word... WATCH IT!
Cassandra Maples
Super Reviewer
The Groomsmen Quotes
There are no approved quotes yet for this movie.