Guelwaar
(1992)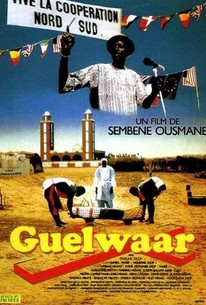 Movie Info
This powerful, pointed and multi-layered political satire from Senegal's great director Ousman Sembene will provide considerable food for thought; especially amongst those who consider foreign charity a beneficial humanitarian action. It also provides insight into Sembene's thoughts on cultural genocide, AIDS, and corruption. The story centers around the funeral services of the outspoken Pierre Henri Thioune or Guelwaar (meaning Noble One) as his friends and family call him. Guelwaar was a prominent Catholic, the holdover religion from the now ousted French colonialists, who believed that most of his country's problems stem not from racism, nor even from colonialism, but from losing their self-respect by willingly accepting the food and supplies donated to impoverished Senegal by richer countries for the past three decades. Guelwaar maintained that these hand-outs have enslaved his people by causing corruption amongst those who exploit the international good-will for their own gain. It is something that destroyed the country's economy and has kept corrupt officials involved promote continued tension between Muslims and Catholics to keep the people fighting. Guelwaar's inflammatory opinions may well have caused his mysterious death. Afterward many important people come to visit the deceased's surviving family which is comprised of Nogoy Marie, his wife, Sophie, his daughter who sells her body in Dakar, and Barthelemy, his eldest son who loves the French and lives in Paris. His second son, Aloys is crippled and lives with his mother. All gather to mourn Guelwaar's death. The trouble begins when his corpse suddenly disappears from the town funeral home. Barthalemy calls the police and Officer Gora, a Muslim is sent to investigate. Gora is no fan of Guelwaar and his suspicious activities, but he always respected him. He despises Barthelemy because he has abandoned his culture in favor of French to the point that he refuses to speak anything but French. Tensions in town mount as rumors fly about the reason for the corpse's disappearance. But then Gora discovers that Guelwaar's body was accidentally buried in a Muslim cemetery and had nothing to do with ideological differences. Still, this is not the end, for now the Catholics want his body back for a proper burial while the Muslims refuse to defile their sacred burial ground by digging up the corpse.
Critic Reviews for Guelwaar
Audience Reviews for Guelwaar
½
[font=Century Gothic]"Guelwaar" starts with Aloys(Mustapha Diop) informing his sister(Marie-Augustine Diatta) and mother(Mame Ndoumbe Diop) that his father, Pierre Henri Thioune(Thierno Ndiaye), a Catholic activist, aka Guelwaar, has died. His brother, Barthelemy(Ndiawar Diop), is taking care of the burial details which reach a snag when the body cannot be found at the morgue. He contacts Gora(Omar Seck), the local police chief, who tracks the body to the village of Baye Aly(Omar Gueye) where it was mistakenly buried in a Moslem cemetary.[/font] [font=Century Gothic][/font] [font=Century Gothic]With "Guelwaar," Ousmane Sembene aims to show the state of chaos that his home country of Senegal is in by dramatizing how a minor bureaucratic mistake can quickly get out of hand.(Not to mention how silly religion is.) But in the end, he does have a great deal of hope that the people will find pride in themselves and not demean themselves by begging.[/font] [font=Century Gothic][/font] [font=Century Gothic]And politicians being opportunistic bastards seem to be a universal phenomenon.[/font] [font=Century Gothic] [/font]
Guelwaar Quotes
There are no approved quotes yet for this movie.