Guilty by Suspicion
(1991)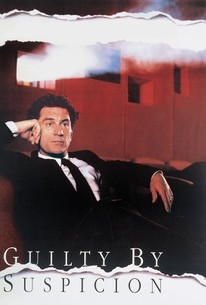 Guilty by Suspicion Photos
Movie Info
The directorial debut of producer Irwin Winkler, Guilty by Suspicion is a sobering account of one movie executive's woes in dealing with the political fallout from the McCarthy Era Hollywood blacklist. Robert De Niro stars as David Merrill, a film director in the 1950s whose obsession with his burgeoning career has estranged him from his wife Ruth (Annette Bening) and their son. When he returns from a trip to Paris, Merrill is surprised when told by his boss, Darryl F. Zanuck (Ben Piazza) that he's been summoned to appear before the House Un-American Activities Committee, which is investigating Communist ties to Hollywood. Although Merrill once attended a meeting years before, he's not a Communist, and he refuses to help the committee wreck the career of his friend Bunny Baxter (George Wendt). Merrill becomes blacklisted, unable to find work even in menial positions or under assumed names as the editor of a B-movie or the director of a low-budget Western. Reconciled with his family, Merrill caves in and agrees to testify, but as he prepares to "name names," his conscience plagues him.
People Who Like this movie also like
Critic Reviews for Guilty by Suspicion
All Critics (17) | Top Critics (3) | Fresh (11) | Rotten (6) | DVD (2)
Irwin Winkler brilliantly captures the madness that overtook Hollywood in the early 1950's
April 3, 2004 | Rating: 5/5
Mesmo se tornando ocasionalmente maniqueísta em seu nobre propósito de denunciar os absurdos do McCarthismo, o filme cumpre seu objetivo de maneira eficaz e traz, como protagonista, um herói involuntário e falho - mas ainda assim herói.
August 17, 2003 | Rating: 4/5
Surprisingly thoughtful account of the Red Scare. De Niro does some great work here.
July 26, 2002 | Rating: 4/5
Audience Reviews for Guilty by Suspicion
½
Interesting drama of a dark, shameful period of America's history, the McCarthy blacklist, and the toll it took on decent people. Uniformally excellent performances. It would be nice to think the venality of the committee members was a dramatic exaggeration but sadly it was all to real.
De Niro gives his best if most underrated performance. The film however never quite reaches the true levels of paranoia you would expect. It does however show these events happening to very real characters. It's certainly an emotional journey as we see their lives fall apart. Unfortunately it is slightly over melodramatic in its presentation.
Luke Baldock
Super Reviewer
I got lost and distracted many times during this film, but the last half an hour, seemed to hold my attention. I wasn't aware of the 'Blacklist era' or the story behind it, but I'm sure both Robert De Niro and Annette Benning's performances will have served the story well
Lady D'arbanville
Super Reviewer
Guilty by Suspicion Quotes
There are no approved quotes yet for this movie.