Gutterballs
(2008)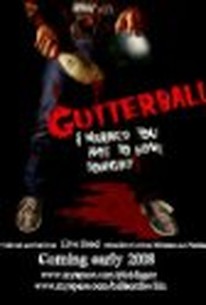 AUDIENCE SCORE
Critic Consensus: No consensus yet.
Movie Info
A popular bowling alley becomes the scene of a big-time bloodbath in Live Feed director Ryan Nicholson's tongue-in-cheek horror comedy. Preparations for a local bowling tournament end in tragedy when, the night before the big event, a girl on her way home from the bowling alley becomes the victim of a vicious gang rape. The following night, as each of the teams prepares to do battle, a mysterious masked killer begins dispatching the bowlers with brutal efficiency. As the body count skyrockets, the remaining survivors wage a valiant fight to unmask the killer and survive the night. ~ Jason Buchanan, Rovi
Critic Reviews for Gutterballs
Audience Reviews for Gutterballs
Outrageously trashy indie slasher from Canada all set in a bowling alley where members of two rival teams start to get picked off by a savage killer wearing a bowling bag as a mask. A real good laugh this was, entertained from start to finish. It's all been made with an 80s atmosphere from the fashion sense to the musical score and takes a lot of influence from the slashers of the period. But as violent and sleazy as slashers from the 80s were none were quite as graphic or sexually explicit as this one turned out, all with an exaggerated tone though so it comes across quite comical. The kills were crazy with plenty of blood and gore to accomodate them. Loved the hilariously offensive language too where every insult known in English must've been used! There is also quite a lengthy brutal rape scene thrown which is pivotal to the story but quite uncomfortable to sit through no matter how comedic the film generally is. It's not for the easily offended, but if you like it offensive and dirty then it's a must-see!
As terrible as the rape revenge slasher films it tries to live up to. It's disgusting and repulsive but worst of all, it lacks a brain. The rape and violence is there for pure titillation. The acting is the most offensive thing about the film. Gamble is not only fucking awful, he also insists on shouting every line, making the film difficult to get through. Some of the deaths are rather entertaining, mostly due to some decent make-up and gore effects. Still not worth the time or effort.
Luke Baldock
Super Reviewer
You won't care you who lives or dies. You won't care how graphic or gory it is. This is strictly amateur night, and while I usually give more slack to a film that tries to push genre boundaries, this one does so in such a blunt way that it actually dulls the film. Most of these "characters" would have long killed each other before being offed by a killer. Not even good as a timekiller.
Gutterballs Quotes
There are no approved quotes yet for this movie.