H
(2002)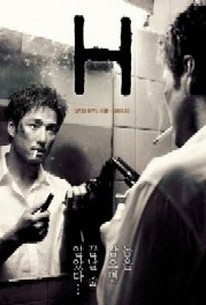 Movie Info
South Korean filmmaker Lee Jong-hyeok makes his directorial debut with the psychological thriller H. Head cop Kim Mi-yeon (Yeom Jeong-ah) and detective Kang (Ji Jin-heui) lead an investigation of several copycat murders. It seems that all the recently gruesome murders are mimicked in the style of serial killer Shin Hyeon (Jo Seung-woo), who is locked in prison on death row. After the suspects start getting killed in the same way, Kim and Kang seek the help of psychiatrist Chu Gyeong-suk (Kim Seon-gyeong) to get some answers. H was shown at the 2003 Cannes Film Festival.
Audience Reviews for H
H is a gruesome Korean thriller, which "borrows" many ideas from Silence of the Lambs. A man who commits brutal murders of pregnant women is imprisoned, the murders keep happening. The detectives of the case then constantly interview the man trying to solve the puzzle. If SOtL never existed, this would be much more appreciated. I did predict the ending early on, and much of the acting was overdone, but something about this film touched me. I think the uniqueness was the tension between detectives, the back to backs got almost as brutal as the crime. The film was gory from the start, and not for people with a weak stomach. I wouldn't confuse this for anything good, but it was a worthy watch. The rating is generous, but I can't go lower.
Daniel Dolgin
Super Reviewer
This was a pretty fucking crummy movie. Shit acting, especially by the lead female detective. This character annoyed me to no end, with her Justin Bieber haircut and her 'I have no emotions' attitude because she was trying to be a badass was really annoying. It would be one thing if the performance was good, but it wasn't so it made it worse. But yea the rest of the cast wasn't good anyway. The story was uninteresting and bland. The directing was pretty amateurish. And the twist was fucking horrendous. Why is it that movies have twists? A twist used to mean that it made sense in the context of the story because they dropped clues and the twist is a logical way to tie all the clues together. They dropped clues in this movie, to set up the twist. But the twist itself is an absolute disaster. It was fucking hypnosis by the real killer. It's absurd. Then again the killer felt pain when his mother tried to abort him while he was in the womb, so I guess this guy is all powerful and can make a detective do his work for him. Just ridiculous. I wonder what people think when they come up with this horrendous twists. "Hey, the movie isn't innovative enough, so we need a non-sensical twist to spice things up a bit". What these people fail to realize is that said twists can make a good movie into a below average one and an average movie into a terrible one. Just a terrible movie from beginning to end. Not all foreign thrillers should be released over here, because, inevitably, you're going to bring over one of the really shitty ones, like this movie right here.
Jesse Ortega
Super Reviewer
½
Korean serial-killer thriller about a spate of copycat killings emulating the murders of a notorious murderer on death row. It's not exactly rife with originality but I still thought it was pretty good. It's got a decent twist at the end which I didn't see coming. Fairly graphic violence wise too so there's enough grisly murders and crime scenes to satisfy the gore hounds.
H Quotes
There are no approved quotes yet for this movie.