Ekusute (Exte: Hair Extensions)
(2007)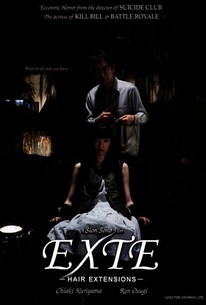 AUDIENCE SCORE
Critic Consensus: No consensus yet.
Movie Info
Chiaki Kuriyama (Kill Bill, Vol. 1) and prolific character actor Ren Osugi (Nightmare Detective) star in Suicide Club director Sion Sono's alternately satirical and terrifying tale of hirsute horror. Yuko (Kuriyama) is a eager apprentice at the Gilles de Rais salon who dreams of one day becoming a famous hair stylist. As a child Yuko was tormented by her sadistic older sister Kiyomi (Tsugumi), though these days the abusive sibling is more inclined to satisfy her mean streak by abusing her own subservient daughter Maki (Miku Sato). Meanwhile, on a nearby freight car, the corpse of a young woman who appears to have become an unwilling organ donor is discovered in a massive nest of hair. When the corpse arrives at the local morgue, misanthropic hair fetishist Yamazaki (Osugi) abducts the cadaver after noticing that it produces an endless wave of hair from every orifice and incision. But these aren't your typical passive locks; strangely they seem to exhibit a life of their own. In order to turn a tidy profit, Yamazaki soon begins selling the strands to local salons so that they may be made into hair extensions. Later, when the murderous manes begin turning on the heads that hold them, the battle between two sisters for the custody of the frightened Maki is soon interrupted by a most unusual development. ~ Jason Buchanan, Rovi
Critic Reviews for Ekusute (Exte: Hair Extensions)
Audience Reviews for Ekusute (Exte: Hair Extensions)
½
Sion Sono's Exte: Hair Extensions provides a second guessing of using hair extensions. In that regards, this film is a success.
The "killer hair" concept of the film is strange, and also quite laughable. As most movies do, the early portions of the 108 minute run time contain a handful of story and character setup. Much like the film's concept, the initial introduction of main character Yuko is entertaining in a playful way, nearly taking away the seriousness of this so-called Japanese horror; however, once the story unravels, the unusual thrilling nature of the film becomes visible.
The camera motion effects for the hair growth and movements are a plus and it adds to the creepy sensation of the picture. The scares themselves are absent, as this picture thrives on suspense and creepiness.
Chiaki Kuriyama is fantastic and watching her lead this movie is a blast. Ren Osugi is notable for putting on quite a performance as the bizarre morgue attendant.
By the end, Exte: Hair Extensions comes across more as a thriller than a horror, and maybe even a horror parody at times. Is it worth giving it a shot? Sure.
Oh my God, Sion Sono, how do I feel about you? I'm so confused. What an unpredictable director he is - I can't find much information about Exte on the web, but if I had to guess, Toei probably just asked him to make a marketable horror film and this is what came out. This is probably the most conventional thing that will ever come out of Sono, but that's not saying much at all; even by the standards of madcap horror-comedy that Exte operates by, it is an utterly bizarre foray into the genre, made all the more delightful by it. Even at its basic level, Exte seems to cannibalize the genre that it comes from - when I say J-horror, what do you say? Long black sentient hair, of course. It only seems natural that Sono would take this trope and beat it so far into the ground that it brings us to realize how meaningless the obsession actually is. It's a pretty great approach on a parodical level, but in terms of generating its own laughs, the hair succeeds as well. This would make a great companion piece to Drag Me to Hell, in many ways its closest contemporary. The shocks are just as legitimately effective as the laughs; the first murder we see is a fascinating, wonderfully acted, sickeningly compelling bit of scene work. An almost visually indecipherable, rapidly cross-cut bit of vengeance killing seen through the eyes of a hidden observer is perhaps even more awesome. Exte is maybe a little deficient in its horror set pieces, as there's a surprisingly heavy preference for drama and character discourse here. It works, but it's melodramatic, as you'd probably expect from a Sono film. Unfortunately, the movie falters whenever it focuses on its maniacal antagonist, who's overdoing it like the rest of the cast...but for him, it just doesn't seem to work. He seems to be fulfilling the prerequisite Sono role of the character who breaks out into arbitrary song and dance routines, which have never exactly been the director's strong point, as much as he'd like to think otherwise. This sad little mortician doesn't have any dimension, except for "grating." And as the last fifteen minutes of the film put him directly in the spotlight, it so follows that its ending absolutely grinds to a halt. It's really a shame, because he figures much more smoothly into Exte when seen in short bursts; it's only here that he actively interferes with the story's momentum.
Drew Smith
Super Reviewer
½
I was a little disappointed by this film; I thought it could have been way scarier and creepier than it was. The imagery of long creeping black hair is really unnerving, and i think it could have been put to much better use. I did, however quite like the aunt-niece dynamic, and the fact that the main character's sister is a way worse villain than the evil hair or manical morgue attendant ever could be.
Emily Armstrong
Super Reviewer
Ekusute (Exte: Hair Extensions) Quotes
There are no approved quotes yet for this movie.