Hannie Caulder
(1971)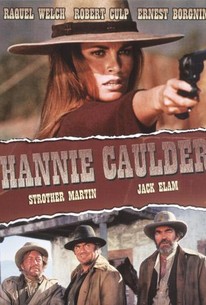 AUDIENCE SCORE
Critic Consensus: No consensus yet.
Movie Info
It's hard to discern the filmmakers' true point of view on Hannie Caulder. On one hand, you've got the heavily somber story of Raquel Welch's efforts to exact vengeance on the men who raped her and killed her husband. On the other hand, you've got the leisurely-paced, lightly amusing sequences in which saddle-tramp Robert Culp tries to teach Welch how to be a gunslinger in her own right. And on the third hand (and who's got one of those?), you are offered the goofy Three-Stooges-like antics of the principle villains: Ernest Borgnine, Strother Martin and Jack Elam. This British-financed western features one-time sexpot Diana Dors as a zoftic madam and an uncredited Stephen Boyd as an ineffectual preacher.
Critic Reviews for Hannie Caulder
Audience Reviews for Hannie Caulder
½
Vigorous western with a strong central performance by Raquel Welch. Tightly paced with good work from the rest of the cast. It's mix of humor and some brutal violence comes off as an uneasy mix but overall a solid film.
½
"Hannie Caulder" starts with Emmett(Ernerst Borgnine), Frank(Jack Elam) and Rufus Clemens(Strother Martin) going on a rampage that originates with a bloody bank robbery. They escape and kill a stationmaster before gang raping his wife Hannie(Raquel Welch), leaving her for dead. She pulls herself from the wreckage and makes it to a well where she encounters Thomas Luther Price(Robert Culp), a not unfriendly bounty hunter. They tangle and she asks him to train her to exact revenge. At first, he refuses and damn if she is not persistent, but he eventually acquiesces, telling her they have to see a man(Christopher Lee) about a gun in Mexico. I think the one thing that killed off westerns more than anything else was that the old stars were getting too old and there was nobody to really replace them.(Well, there's Clint Eastwood but he always had bigger ambitions...) So, it might seem weird at first to let Raquel Welch of all people star in one in "Hannie Caulder" but surprisingly she succeeds in the end, playing a character who is undergoing changes and learning throughout the movie, according to need.(By contrast, Robert Culp seems naturally suited to the terrain.) As Thomas says, Hannie wants to be a man and how else to survive in a lawless and brutal west where the army sleeps on the job, the sheriff looks the other way and the only justice comes from the end of a bounty hunter's gun?
This Western / Rape-Revenge flick from the early 70's is none to original and even a little too predictable for it's own good but still manages to be a good time. Apparently this was a strong influence for Tarantino's Kill Bill films, no real surprise there as Tarintino has made a pretty good career for himself recycling every film from the 70's idea's. The story is 3 bank robbers on the run stop in a ranch to steal horses, kill the owner of the ranch and brutally rape his wife. The wife (played by Raquel Welch) shortly after this meets a bounty hunter who she wishes to teach her about the ways of the gunslinger to get her revenge. While intially not willing to do this the Bounty Hunter is shortly convinced that he should help her so does. What happens after this should be no surprise. While not the best Western movie I've ever seen, this is still a really good example of the genre. There are many good performances, an awesome soundtrack and good pacing. Short and sweet and never boring, you could definently do a lot worse than this. Recommended.
Ed Fucking Harris
Super Reviewer
Hannie Caulder Quotes
There are no approved quotes yet for this movie.