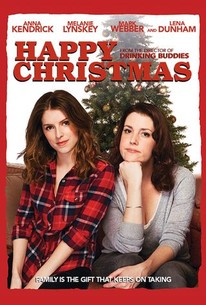 Happy Christmas
2014, Holiday/Comedy, 1h 18m
80 Reviews
5,000+ Ratings
What to know
Critics Consensus
Intelligent, well-acted, and satisfyingly low-key, Happy Christmas marks another step in prolific filmmaker Joe Swanberg's creative evolution. Read critic reviews
Where to watch
Rent/buy
Rent/buy
Rent/buy
Rate And Review
Movie Info
An immature party girl (Anna Kendrick) moves in with her brother's family to get over a breakup and throws their lives out of whack.
Rating: R (Language|Drug Use|Some Sexual Content)

Genre: Holiday, Comedy, Drama

Original Language: English

Director: Joe Swanberg

Producer: Joe Swanberg, Peter Gilbert

Writer: Joe Swanberg

Release Date (Theaters): limited

Release Date (Streaming):

Box Office (Gross USA): $30.1K

Runtime:

Distributor: Magnolia Pictures

Production Co: Tiki Bar Films
News & Interviews for Happy Christmas
Audience Reviews for Happy Christmas
Joe Swanberg is a recently emerged figure in the mumblecore movement, and he has been making films that have been well received both critically and commercially. Most of his film's dialogue is improvised, he sometimes stars in his own films, and they all deal in the same components of the mumblecore genre, including using twenty-and-thirty-somethings who are trying to get their lives together. Anna Kendrick has recently been making a ton of independent features, and this is her second collaboration with the director. The story follows Jenny (Kendrick) as she goes to stay with her brother (Swanberg) and his wife (Lynskey), following a bad breakup and a lack of ambition. Jenny and her sister-in-law start to bond and Jenny realizes her feelings for their babysitter (Weber) though she also realizes it's just another bad decision in her already harried life. The film itself doesn't say anything specific about life as a young adult, and it doesn't have much of a plot, but the improvised dialogue between Kendrick, Lynskey, and Dunham reminds me of the same gabbing I have been privy to as a twenty-something. Entertaining for college students, but this doesn't say anything about our lives other than that it's difficult to figure out who we are at this stage in life.

Anna Kendrick stars in the gritty, indie comedy-drama Happy Christmas. After a bad breakup Jenny moves in with her brother and his wife, but her reckless ways soon start to cause problems for them. Unfortunately, the directing style makes the film look and feel incredibly cheap. And, at times it seems as if there's no script and that that actors are just improving. Yet, at times there seems to be authentic character reactions. Also, there's a sincerity to the film's message about the things we go through for family. But overall, Happy Christmas is a poorly made film that falls flat and fails to tell a compelling story.

A lot of people seem to hate Joe Swanberg, and I do not seem to understand why. Like I get that his style is certainly not gonna be everybody's cup of tea but, for my money, he's just trying to make the films he wants to make and evolve and get better with each film. I think this is something he's even said himself in an interview, or part of it, that I saw with him. His films, essentially, are just drops in the ocean, and I don't mean that as an insult. I mean that in the sense that films are so wide and vast that to focus your vehement dislike on this one independent filmmaker seems like a waste of time, to me at least. I don't think that anyone, as far as I'm aware of, has made the claim that Joe Swanberg is the best filmmaker going right now. Don't get me wrong, I think the guy is good, which is something that I'll get to later, but he's not Martin Scorsese...hell I don't think he even thinks that. It's probably a good idea I, for the most part, stay off of websites or comments sections because that negativity, in some way, is gonna warp your view of his, or anybody else's, films. But I digress, silly rant out of the way, I really liked this movie. This was a pleasant surprise. I always say this, it's not like I go into films expecting not to like them, but I really wasn't feeling this before I started watching it. It was more of a 'why not' decision. It's certainly short enough to where it doesn't overstay its welcome, so I decided to give it a shot. Much like a lot of Swanberg's films, the film is low-key and naturalistic. They achieve this by, pretty much, improvising much of the dialogue you see on the film. I'm sure there were certain plot points they needed to hit, but how they got there was heavily improvised. And I'm a big fan of that, it just feels, far more realistic than the norm. There's no heavily scripted, dramatic scenes. No overacting, all of it feels natural. And I can imagine that that would be very freeing and creatively stimulating for an actor, it's just a method that more filmmakers should use to be honest. Maybe not have everything be improvised, just give the actors a certain leeway to deliver the lines in a way that, they feel, is best for the character they're portraying. But the improvisation makes it easier to relate to these characters as actual people instead of just fake characters in a fake movie. The film's look fits along with the tone of the film. Nothing fancy, shooting on 16mm will do that. But, again, with type of story they're telling, 16 mm film is just perfect. The character development is very low-key, but intelligent. There IS an arc for the characters in the film. Jenny's is to find a way to keep from self-destructing and Kelly's is to find her passion for writing again through Jenny's and Carson's help. The film isn't gut-bustingly funny, but it has its funny moments, like when Carson, Kelly, and Jenny are discussing how they'll broach the subject of sex in the trashy, romance novel Kelly is writing. It all works because, again, it's all improvised. It feels like a real group of women discussing what the book's content it is. You know why it feels like that? Because it's exactly what it is! It's not exactly rocket science. Strong acting all around, Melanie Lynskey and Anna Kendrick are always great together. Joe Swanberg is good as well, because he's essentially playing himself, not a scripted character. He's even said he's not a good actor, so at least he keeps himself out of the picture and lets his leading ladies carry much of the load. I think the film's low-key approach with definitely frustrate some people and I understand, but I think the film certainly makes that up with strong acting and intelligent storytelling. Essentially Joe Swanberg is preaching to the converted here. There's no reason to suspect that anyone who dislikes his movies will, all of a sudden, 'see the light'. Fans, however, will definitely have a lot to enjoy here. Can't exactly recommend it, since it is bound to be polarizing, but I quite enjoyed it.

Very well-acted and very well-directed, "Happy Christmas" is one of those little gems that come out every now and then and kind of passes you by. I felt a sense of warmth viewing this picture, mainly due to it's rough edge feel and naturalistic vibe both from a character and filmmaking stand point. Even though Anna Kendrick has been in big Hollywood films, it is nice to see her pursuing nice indie roles where her true acting talent shines. Time and time again, independent filmmakers get their films out there and nobody is able to see them. It is a real shame, because, even though this is not an incredible film, it has amazing life lessons throughout and it makes you feel very good by it's conclusion. At a mere eighty minutes, "Happy Christmas" is a great treat and I highly highly recommend it.
See Details