Hard Ticket to Hawaii
(1987)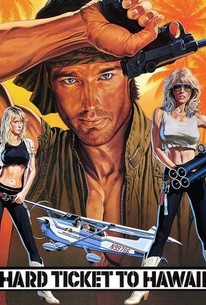 Hard Ticket to Hawaii Photos
Movie Info
Two gorgeous women -- Donna (Dona Speir) and Taryn (Hope Marie Carlton) -- operate a airplane cargo delivery service in Hawaii. Their latest shipment includes a very large, very nasty snake destined for the local zoo. But the delivery is interrupted when they stumble on a cache of diamonds that were to go to a ruthless drug dealer, Seth (Rodrigo Obregon). Seth sends a transvestite to kidnap the owner of a restaurant, Edy (Cynthia Brimhall), so his men can torture her with a female bodybuilder into revealing where Donna and Taryn are. Luckily for all the good guys, Special Agent Rowdy Abilene (Ronn Moss) has a bazooka, and he knows how to use it. And unluckily for Seth, that nasty snake has broken out of its box.
Critic Reviews for Hard Ticket to Hawaii
All Critics (6) | Fresh (1) | Rotten (5) | DVD (2)
This 1987 bonanza of schlock features no less than four erstwhile Playmates of the Month, acting just as well as you'd expect.
Often silly and so utterly awful from acting to sound mixing, but it embraces its trappings by injecting as much softcore sex and nudity as humanly possible.
For a bikini action movie, it's not much. It's a rental that you'll probably fast forward through.
July 14, 2003 | Rating: 2/5
Audience Reviews for Hard Ticket to Hawaii
½
A cheesy low budget action movie, yes. If you love cheesy low budget movies, though, it's gold! I enjoyed it.
½
I liked this when I was younger. Very culty.
Hard Ticket to Hawaii Quotes
There are no approved quotes yet for this movie.