Harlan County, U.S.A.
(1977)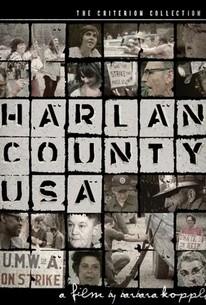 Harlan County, U.S.A. Photos
Movie Info
This film chronicles the bitter and violent struggle waged by coal miners during a strike in 1973 in Eastern Kentucky against the Eastover Mining Company. The story focuses on the miners and their families' fight for decent living standards in an area where many still live in shacks with no indoor plumbing and work at jobs with little security and dangerous conditions.
Critic Reviews for Harlan County, U.S.A.
Audience Reviews for Harlan County, U.S.A.
Considered one of the best documentaries ever made, Harlan County lives us to its reputation. The film makers reveal all the personalities involved in the tragic fight of the coal miners union with management.
John Ballantine
Super Reviewer
Coal miners strike against the company that exploits them and the union that doesn't always represent their interests. In 1976 this was a ground-breaking film that deserved and won the Oscar for Best Documentary. Today it is still relevant. Many of the issues have changed, but the exploitation of coal miners, the corruption of the union, and the dangerous nature of the work have remained horrifyingly similar as the recent mine accidents attest. The cinematography is fantastic. The film crew, working for over a year, was able to capture stark images of miners covered in coal dust, miners suffering the diseases that come with coal mining, scenes of violence that are shocking in their reality and nearness, and the overall spirit of the town. Interviews with many of the miners and company executives tell the story without the narration that we see in many of today's documentary, in which the documentarian is a central character in the film. I think the most authentic element of the film is the soundtrack, which is comprised of union songs sung by the strikers themselves. Overall, this documentary is wonderful in its ability to immerse the audience in the feeling, look, and culture of Harlan County.
Jim Hunter
Super Reviewer
A very ambitious documentary that was incredibly ahead of its time. The cinematography is unbelievable, it doesn't look like a documentary. You see the true picture of this small town and their complete dependence on the coal mining industry. It gets a little too dramatic at times and I think it was in some ways exaggerated, but I thinks it's one of the better documentaries to be made in the last 30 years.
Conner Rainwater
Super Reviewer
Harlan County, U.S.A. Quotes
There are no approved quotes yet for this movie.