Heart of Dragon (Long de xin) (The First Mission)
(1985)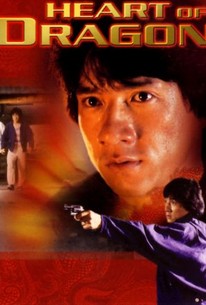 AUDIENCE SCORE
Critic Consensus: No consensus yet.
Heart of Dragon (Long de xin) (The First Mission) Photos
Movie Info
This Jackie Chan martial arts actioner is a bit different than most of his films (although it does have the requisite spectacular stunts and kung fu fights). In it, he plays a police officer who is a member of a SWAT team but leaves it to join the C.I.D. division. His reason for leaving isn't to get more "action," though; it's to keep a closer eye on his feebly-minded brother Danny (director Hung).
Critic Reviews for Heart of Dragon (Long de xin) (The First Mission)
There are no critic reviews yet for Heart of Dragon (Long de xin) (The First Mission). Keep checking Rotten Tomatoes for updates!
Audience Reviews for Heart of Dragon (Long de xin) (The First Mission)
Now I'm a big fan of Jackie Chan and I enjoy it when Chan does something different from what he's use to. Now while it didn't completely work for this movie, it wasn't exactly a bad watch either. Heart of Dragon is about a cop who forsakes his dreams of sailing around the world so that he can care for his mentally retarded brother. Now the writing is off in telling a story as it's hard to take something like this and add humor in it. Now while I felt the humor was unnecessary and could have benefited if it was just a drama, the humor does work. Now the movie is also bipolar, it keeps changing our emotion as we see it. Now while it good to go through many emotion while watching a movie, it's uneven with some comic relief scenes coming after a serious dramatic scene really doesn't work too well. Surprisingly it was touching despite it being weird seeing a grown man acting and dressing like a kid. It works thanks to the movie focusing on the struggle of our main characters and watching how our characters develop with a strong bond with each other. Now one thing many of Chan fans will complain is that there really isn't much action. This is another flaw with the writing as there few action scenes and there to far in between. Though they are well done and I'm not one for complaining for how many action scenes there are in a movie as it matter on the quality. This also has some of Chan best dramatic acting and it's really impressive on how well he handle the portrayal of his character. Sammo Hung on the other hand is a hit or miss, now I did take his character seriously, but it was very difficult for him to pull it off as we get some unintentional laughs from him. Heart of Dragon is certainly one of Chan weirdest movie including some of his best acting. Heart of Dragon is may not be for everyone, some will find it a joke, other will find a unusual Martial Art drama that's surprisingly effective.
Caesar Mendez
Super Reviewer
Weird movie!! Classical too.
Yinalí Ríos
Super Reviewer
½
Rain Man for the kung fu fan. Chan and Hung pull out all the dramatic stops in this tale of brotherly love and yet still leave room for some of the finest fight action Chan's ever managed.
Dean McKenna
Super Reviewer
Heart of Dragon (Long de xin) (The First Mission) Quotes
There are no approved quotes yet for this movie.