Heavy Metal Parking Lot
(2000)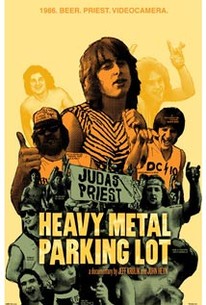 Heavy Metal Parking Lot Photos
Movie Info
A close-up view of the heavy metal scene in its heyday (maybe too close), Heavy Metal Parking Lot is an underground classic recorded on video in the parking lot of a Judas Priest concert at the Capitol Center in Largo, MD, in 1986. Director John Heyn wandered around the drunken parking lot scene and barely had to do anything other than hold up a microphone and aim the camera. Packs of plastered kids unfurled homemade Judas Priest banners, sang their favorite Judas Priest songs, played air guitar for the camera, and in general, made incredible asses of themselves. The interviews are pretty simplistic. They ask questions like, "Why are you here?" or "What do you guys think of Judas Priest?" So, the filmmakers were fortunate that the crowd that day exuded so much unbridled enthusiasm and were willing to completely lose it in front of the camera. Other than the interviews and images of fans, this short film features a couple of Judas Priest songs on its soundtrack and less than a minute of concert footage at the end to round out this nearly legendary, no-budget hit.
News & Interviews for Heavy Metal Parking Lot
Critic Reviews for Heavy Metal Parking Lot
Audience Reviews for Heavy Metal Parking Lot
Heavy Metal Parking Lot is a brilliant short film about a group of fans tailgating outside a stadium before a Judas Priest concert. This film takes a look at 80's metal fans, and how they were back in the day. Although this is a short film, it captures the feel of the era and is a must watch for metal heads. This is a humorous look at the world of metal fans, and watching the film, it's like stepping back in time and experiencing the feel of the genre back in its heyday. For sheer, entertainment value, Heavy Metal Parking Lot is a great film to watch, although it's a short, it will definitely appeal to fans of the music. Watching this, you realize why this has become such a cult hit among musicians and fans alike. If you're looking for a perfect short documentary that chronicles head bangers the way they were back in the day, this is that film to watch. The film has the vibe, the humor, the diehard dedication of Judas Priest fans, and if you're looking for the definitive portrait of heavy metal and, Heavy Metal Parking Lot is a great documentary, one that relies on its nostalgia factor to really make it entertaining. I am a diehard metalhead, and the metal attitude that most fans possess nowadays is so far from what it used to be. Watching this, you realize how much fun fans of the music had, and how everything else seemed trivial. 80's metalheads were having fun, and it was about the music. Nowadays, the scene seems a bit divided and it's kind of sad. Nonetheless, Heavy Metal Parking Lot is a brilliant portrait of what the scene used to be.
½
i knew some of these fools in high school. bet they're still there...really bad 80's hair and dreadful bawlmer accents...hilarious
Stella Dallas
Super Reviewer
In 1986, near the nation's capital, Judas Priest and Dokken are about to take the stage at the height of heavy metal's most permed-out era. Approx. 15 minutes long, this infamous, underground, urinal verite captures a moment that will be passed on from one generation to the next. Stare and shake your head at the 20-year-old with the 13-year-old girlfriend. Marvel at the neverending wall of guys with no shirts driving Camaros. Watch in amazement the mascara stained girls with big hair sipping Budweisers and smoking weed. Laugh at the comments of a floozie with hilarious hair and braces talk about jumping Rob Halford's bones before the heavy metal Liberace embodiment of machismo came out of the closet years later. I couldn't tell which was harder to look at, the fans' apparel or their teeth. This will surely get you thinking of your behavior from an outsider's perspective at parking lot parties you've graced.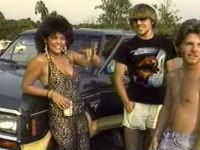 El Hombre Invisible
Super Reviewer
Heavy Metal Parking Lot Quotes
There are no approved quotes yet for this movie.