Herod the Great
(1960)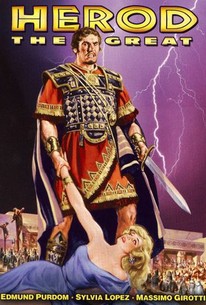 AUDIENCE SCORE
Critic Consensus: No consensus yet.
Movie Info
This Italian Biblical epic tells the tale of the downfall of Herod, King of Judea. He must deal with his crumbling kingdom and watch as his lovely wife becomes increasingly coveted by younger, more virile men. Eventually, the desperate king issues his terrible edict to kill all newborn males.
Critic Reviews for Herod the Great
There are no critic reviews yet for Herod the Great. Keep checking Rotten Tomatoes for updates!
Audience Reviews for Herod the Great
One of the better movies from Mill Creek 50 Movie Warrior Collection. The story is about King Herod and his love for his Queen Mariam. It has been a while since I read Josephus and his account of Herod, but I will assume the movie follows Josephus' storyline to some degree. In the last ten minutes, a little subplot taken from the Gospels of Luke and Matthew is added. In it Herod orders the killing of a brat born in Bethlehem. Oddly, according to the movie, King Herod only ordered the killing of the new born babies because he was so distaught that Mariam did not love him anymore. There are some nice sets and costumes, but nothing really spectacular here. There are no real battles or sword fights, so action fans should stay away. This is a small cast with only a few dozen extras. It has more of an intimate stage play rather than an epic quality feeling. The real reason to watch is the acting. Edmund Purdom is actually quite good as Herod. You actually do feel sorry for Herod at moments. Sylvia Lopez is extraordinary as Mariam. This and "Hercules Unchained" are basically the only known widely released movies she was in during her short three year movie career. If she had not died at 28, she might have been one of the great stars of the 60's. She kind of reminds me of Diane Cilento. She's more sexy than beautiful and she really dominates the screen. One can easily see why she drives Herod crazy. If you're interested in 1st century B.C.E. Judean history, the movie is worth a look. Also if you want to see a beautiful young actress who died at the door to stardom in 1959, you should check it out. 3 Stars 6-10-13
Bruce Bruce
Super Reviewer
One heck of a histrionic historical melodrama. What you'd want in this sort of film. It's Italian, Over-the-Top at parts, and tragic as all hell.
Patrick Dolan
Super Reviewer
Herod the Great Quotes
There are no approved quotes yet for this movie.