High School
(1968)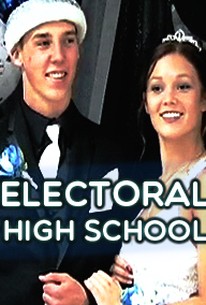 AUDIENCE SCORE
Critic Consensus: No consensus yet.
Movie Info
In 1991, the National Film Preservation Board selected High School (1969) for inclusion in the National Film Registry. Richard Schickel, writing in Life, called this a "wicked, brilliant documentary about life in a lower-middle-class secondary school." Acclaimed filmmaker Frederick Wiseman roamed freely through Philadelphia's Northeast High School to document a continual clash of teens with administrators who confused learning with discipline. At 75 minutes, this is one of Wiseman's shortest documentaries, yet the impact is just as memorable as in his three-hour films. Both facts and social values are transmitted from one generation to another, and such social conditioning is seen in a series of formal and informal encounters between teachers, students, parents, and administrators. One disciplinarian lectures a minor offender: "We are out to establish that you are a man and that you can take orders." Wiseman went back to school 25 years later to film more successful student-teacher interactions and progressive teaching methods at an alternative high school in New York's Spanish Harlem, seen in his much longer (220 minutes) High School II (1994).
Critic Reviews for High School
All Critics (2) | Top Critics (1) | Fresh (2) | Rotten (0)
The film is filthy with the kind of revealing behavior that a documentarian can only hope and pray to capture on camera ...
High School is a sinister and very shrewd portrait of the American pursuit of mediocrity, a film of almost Nabokovian wit.
Audience Reviews for High School
This documentary follows students, faculty, and incoming advisors in their day to day lives at a public high school. The school is in Philadelphia, 1968, and though not as strange to watch as any reality show of the past ten years, it was inventive and fresh at the time of its release. Though it's been forty-six years since its initial release, everyone in this film acts the same as the high school that I remembered going to. There were still the kids who vied for respect from their superiors, but gave none in return. There were the parents who weren't very proud of their children, the smart mouths, the air heads, and the dweebs. Every stereotype was represented, but even more interesting is the time capsule quality of this film. In many instances there's an air of inequality that feels uncomfortable and politically incorrect today. Conversations between the pretentious beatniks involve race relations, and there's even a class on pageantry that lectures students on their bodies, without any empathy or understanding for self-esteem. It's seriously uncomfortable to watch the employed misogyny in the trusted officials, not tolerated in our schools today. This film is not only revolutionary, but serves to show American life at the end of the sixties.
Spencer S.
Super Reviewer
In High School, Frederick Wiseman takes us into the Northeast High School to observe an oppressive education system, an old teaching method when authority is taken inadequately and students didn´t have a voice. Male Authority Figure: It's nice to be individualistic, but there are certain places to be individualistic. Female Student: I didn't mean to be individualistic. Male Authority Figure: No, I'm not criticizing!* "A lot of people think the purpose of documentary films is to expose injustice to those victimized, or that the films are made to correct the filmmaker's idea of injustice. I think that's a strand of documentary but it's certainly not the only use. (...) When it was first shown in Boston in 1969, one of the people who saw it was Louise Day Hicks, a very conservative member of the Boston School Committee. I thought she'd hate the movie. But she came up and said, ´Mr. Wiseman, that was a wonderful high school!´ I thought she was kidding me until I realized she was on the other side from me on all the value questions. Everything I thought I was parodying she thought was great. I don't think her reaction above represents a failure of the film. Instead, we have an illustration that reality is ambiguous, a complex mirror, that the ´real´ film takes place where the mind of the viewer meets the screen. It's how the viewer inteprets the events". High School is an interesting piece of study on customs and changes, especially today. It is amazing to compare the differences and similarities of society in the 60´, 70´ s and forty years later. If there was a strict discipline that didn´t allow a better relationship between teacher and students, today there is a lack of respect and consideration for the teacher figure. I dare to say that there is no much hope left as we see it in the eyes of the young teacher that dissects Paul Simon's poem "The Dangling Conversation" and "plays" the Simon & Garfunkel song version. And we sit and drink our coffee Couched in our indifference Like shells upon the shore You can hear the ocean roar In the dangling conversation And the superficial sighs The borders of our lives And you read your Emily Dickenson And I my Robert Frost And we note our place with bookmarkers That measure what we've lost Like a poem poorly written We are persons out of rhythm Couplets out fo rhyme In syncopated time Yes, we speak of things that matter With words that must be said Can analysis be worthwhile? Is the theater really dead? * IMDb (this dialogue is all about a skirt length)
Rubia Carolina
Super Reviewer
½
It really is only footage that has been taken from high school student during the year of 1968, and I am not saying this a bad thing, because the real life stories that we have feelings for during the film, are very well filmed, but not to the point where an entirely new story can come from it. Director Frederick Wiserman and his crew take cameras through the halls and classrooms of a high school to capture the emotions and real life stories of it's students, their parents, and it's staff. The substance in the film is brilliant, and it is an essential film for an young student to witness, but that is sadly all it is. There are no commentators, no interviews, and hardly any background noises at all. It is raw footage that has been edited together. Technically it is a documentary, and it is a very intriguing one, but I couldn't find myself getting invested in much of it. Still, a lot of effort was put into the making, and it shows.
High School Quotes
There are no approved quotes yet for this movie.