Hiruko the Goblin
(1991)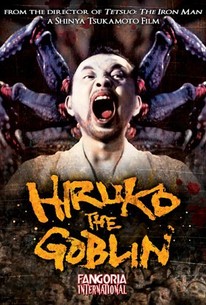 AUDIENCE SCORE
Critic Consensus: No consensus yet.
Movie Info
When a school is built on the gates of hell you can rest assured that things will get messy when the demons come up to play in this glossy from maverick Japanese filmmaker Shinya Tsukamoto. As the clueless students fill the hallway to rush to their next classes, they remain blissfully unaware that the mischievous goblin Hiruko has crossed over from the dark side on a deadly reconnaissance mission. Decapitating students so that he may attach their heads to spider-like demons and prepare for the ultimate war against humanity, Hiruko's nefarious plot is soon uncovered by an archeology professor hell-bent on putting a stop to the gruesome takeover. Now as the crust of the earth cracks open and demonic spiders with human heads fill the hallways, the only hope for humanity lies in one fearless professor with the will and the means to drive the arachnid demons back into the underworld. ~ Jason Buchanan, Rovi
Critic Reviews for Hiruko the Goblin
There are no critic reviews yet for Hiruko the Goblin. Keep checking Rotten Tomatoes for updates!
Audience Reviews for Hiruko the Goblin
½
Let's see, have we got improbable inventions created by a man who was discredited in his field? Check. Mysterious bodily marks? Check. A cheesy soundtrack, bright red blood, spider-like demons? Check all round. Congratulations, it's a Japanese B-movie! Or at least, I assume it's a B-movie. Hiruko isn't a classic in the traditonal sense, it's not good enough for that. Instead, it's a viewing experience you'll probably remember for a long time due to the pure enjoyment factor. For every bit of cheesy acting there will be one scene or idea that will really grab you, particuarly if you're a horror veteran. I found that it picked up quite a lot towards the end, once we were actually given some plot you can stop wondering what the hell it's all about and just enjoy the madness of it all. I especially liked the motion shots done from the goblin's point of view, complete with the creature breathing heavily from exertion. Verdict: difficult to say. Watch to say you have. I enjoyed watching it, but can't tell if I like it or not. Possibly will watch again at some point.
Strange, campy and almost incoherent Japanese demon film that works most of the time although the "wacky" acting rather pushes it to its breaking point. Still a nice change of pace after Tsukamoto's previous film the even more confusing Tetsuo.
A.D. Villarreal
Super Reviewer
½
A heck of a lot of fun. So much fun in fact, the first time I saw it I thought I was watching a HK movie. Soon, the mood changed and it turned eerie with some amazing visuals. Another Tsukamoto fave.
Christopher Brown
Super Reviewer
Hiruko the Goblin Quotes
There are no approved quotes yet for this movie.