His Girl Friday
(1940)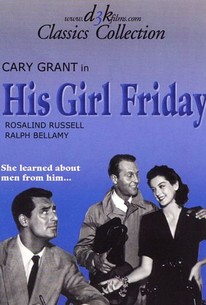 TOMATOMETER
AUDIENCE SCORE
Critic Consensus: Anchored by stellar performances from Cary Grant and Rosalind Russell, His Girl Friday is a classic screwball romantic comedy.
Movie Info
The second screen version of the Ben Hecht/Charles MacArthur play The Front Page, His Girl Friday changed hard-driving newspaper reporter Hildy Johnson from a man to a woman, transforming the story into a scintillating battle of the sexes. Rosalind Russell plays Hildy, about to foresake journalism for marriage to cloddish Bruce Baldwin (Ralph Bellamy). Cary Grant plays Walter Burns, Hildy's editor and ex-husband, who feigns happiness about her impending marriage as a ploy to win her back. The ace up Walter's sleeve is a late-breaking news story concerning the impending execution of anarchist Earl Williams (John Qualen), a blatant example of political chicanery that Hildy can't pass up. The story gets hotter when Williams escapes and is hidden from the cops by Hildy and Walter--right in the prison pressroom. His Girl Friday may well be the fastest comedy of the 1930s, with kaleidoscope action, instantaneous plot twists, and overlapping dialogue. And if you listen closely, you'll hear a couple of "in" jokes, one concerning Cary Grant's real name (Archie Leach), and another poking fun at Ralph Bellamy's patented "poor sap" screen image. Subsequent versions of The Front Page included Billy Wilder's 1974 adaptation, which restored Hildy Johnson's manhood in the form of Jack Lemmon, and 1988's Switching Channels, which cast Burt Reynolds in the Walter Burns role and Kathleen Turner as the Hildy Johnson counterpart. ~ Hal Erickson, Rovi
News & Interviews for His Girl Friday
Critic Reviews for His Girl Friday
Audience Reviews for His Girl Friday
I guess the term "screwball" couldn't be more well illustrated than by this laugh-out-loud comedy whose characters shoot their overlapping lines in an insanely frenetic rhythm, with Grant and Russell simply hilarious and displaying an enormous chemistry together.
Carlos Magalhães
Super Reviewer
Was told it's a classic...and, yeah, I guess I can see why. However, I do think this one is quite overrated. Or maybe I'm just not a massive fan of screwball comedies? Who knows? I did like this though, but I don't think it's a full on masterpiece or anything. Directed by the diverse Howard Hawks, this is a rapid-fire comedy about a feisty newspaper reporter who wants to leave her job to get married. Her boss, and ex-lover however, wants her back, and, to do so, he baits her with a news story she just can't resist. And plot wise, that's pretty much it. In the original play, the lady was a man, so, by changing the gender, the film adds elements of sexual tension, gender politics, and that kind of subtext, which, yeah, I'll give it a lot of credit for that, especially since this film is 73 years old. I think that's the key thing here. This was a seminal film, but it's not quite as groundbreaking as it once was. It doesn't have the edge it used to, but I can still admire it for it being so potent at one time. What really holds up though is the rapid fire dialogue. Now I really know where the Coens got their inspiration for fast talking characters, and where Altman was perhaps inspired in the overlapping dialogue department. And The Social Network. That one had some lightning quick lines, but this one might be the king of all that. And it is really good writing, too. This is a pretty witty and funny film, but modern audiences unfortunately may not get super into it if they're used to blue humor. It's quite clean here, though there is that undercurrent of sexual tension and subtlety. The broad basic plot is kinda ho hum (I thought), but still enjoyable, if only for the sharp characters, and the even sharper performances. Cary Grant and Rosalind Russell are great here, and they seem to have a blast going toe to toe with one another. Besides the snappy dialogue, the film is also known for it's editing, and yeah, it's some pretty snazzy, influential stuff. The film is well shot, and put together in an even better fashion. So, bottom line: it's a classic, sure, but an overrated one. I dug it, but can say that I would have loved this even more if I was a bigger fan of this kind of thing, and especially had I seen this maybe a few years ago.
Chris Weber
Super Reviewer
½
Snappy dialogue and a quick-witted script highlight this film from 1940. Based on a play called "The Front Page", director Howard Hawks' "His Girl Friday" takes a comedically serious look at the sleezy world of yellow journalism. Star reporter Hildy (Rosalind Russell) is quitting the newspaper business to go lead a respectable life as the wife of insurance salesman Bruce Baldwin (Ralph Bellamy). However, her former boss (and ex-husband) Walter would rather she forget all this respectability business and come back to work for him (and also marry him again). The story he hopes will bring her back is the execution of cop murderer Earl Williams (John Qualen). Walter is fighting to get a pardon for Williams, who killed a "colored" cop and the mayor is only trying to get him executed because of the election coming up (because the colored vote is very strong in that town). Apparently, Williams was driven "crazy" because of all the hard times poor people must face, and when a gun was placed in his hand, he was compelled to use it. I guess all this is logical by 1930s standards, but many of these plot details had me cringing. There's a strange amoral morality at work with these characters. They do horrible things to innocent people to get what they want, but I suppose since they're the heroes of the film, we're supposed to root for them. The story is good however, I wonder if it might've been a better drama than screwball comedy.
Devon Bott
Super Reviewer
His Girl Friday Quotes
| | |
| --- | --- |
| Walter Burns: | There's been a light burning in the window for you! |
| Hildy Johnson: | I jumped out that window a long time ago, Walter. |
| | |
| --- | --- |
| Walter Burns: | "Take Hitler and stick him on the funny pages!" |
| Walter Burns: | Take Hitler and stick him on the funny page. |