Hombre
(1967)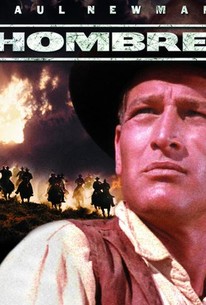 Movie Info
Yes, Paul Newman is a blue-eyed Indian in Hombre, but this apparent ethnic error is carefully justified in the body of the story. Newman plays a white man who was raised by the Apaches, and ever since has straddled two worlds, feeling truly comfortable in neither. While riding a stagecoach, Newman is subject to the racial bias of banker Fredric March and his snooty wife Barbara Rush. In truth, March is an embezzler, and has no reason to feel superior to anyone. This fact comes out when the coach is held up by murderous bandit-chief Richard Boone. When the passengers fight back, Boone takes Rush as a hostage. Newman, who by rights should be supremely satisfied that his tormentors are themselves tormented, proves himself the bravest of the passengers, sacrificing his own life to save Rush and put an end to Boone's reign of terror. Hombre is based on a novel by suspense specialist Elmore Leonard. ~ Hal Erickson, Rovi
Critic Reviews for Hombre
Audience Reviews for Hombre
Joe Campbell inferred that cultural and societal change was usually delivered by the outsider, the lonely soul (part of the job description) who sacrificed himself to bring "fire" to the clueless group. In an interesting take on that tale, Newman plays a white guy raised by Indians who endeavors, despite his better judgment, to raise the bar so to speak. But this is an ensemble piece and zowie, what a work it is, quiet and brooding, an understandable emotional reply to the "that inhumanity is just how it is" worldview. The director, Martin Ritt, was blacklisted and so knows a thing or two about being an outsider and that mojo translates here onto the screen.
Kevin M. Williams
Super Reviewer
Paul Newman is very Eastwood-esque in this classic '60's western that features Fredric March, Martin Balsam and Richard Boone.
Randy Tippy
Super Reviewer
½
Paul Newman plays a horse trader raised by the Apache who finds himself the protector of a group of travelers when they are ambushed by outlaws. Obviously another variation on the Stagecoach theme, Hombre instead casts the "Indian" as the anti-hero and the white men as the villains. This switch-around forms the basis of the story as the main topic is that of racism; the steely-eyed Newman is initially shunned and vilified because of his native American heritage but finds himself emotionally blackmailed into becoming their saviour as soon as they need his help. Newman is extremely charismatic as the enigmatic frontiersman, the irony being that the actions the whites see as "savage" are in fact born of the cold logic of a lifetime struggling for survival. The white characters are shown as either hypocritical or naive and soon forget their moral outrage when they find their lives on the line. The plot may be a little predictable but it's also a very interesting character study and social commentary with a superb central performance from Newman. Well worth a look for those who like westerns with a brain.
Hombre Quotes
| | |
| --- | --- |
| John Russell: | Hey, I got a question for you. |
| Cicero Grimes: | What's that? |
| John Russell: | How are you going to get down that hill? |
| | |
| --- | --- |
| Audra Favor: | Have you ever eaten a dog, Mr. Russell? |
| John Russell: | Eaten one and lived like one. |
| | |
| --- | --- |
| Cicero Grimes: | Well now, what'ya suppose hell's gonna look like? |
| John Russell: | We all die, just a question of when. |
| | |
| --- | --- |
| Mexican Bandit: | hey, Hombre, you give me quite a stomach ache. I haven't had a stomach ache like dat since I was a little boy |
| Mexican Bandit: | Hey, Hombre, you give me quite a stomach ache. I haven't had a stomach ache like dat since I was a little boy. |
| Mexican Bandit: | Hey, Hombre, you give me quite a stomach ache. I haven't had a belly ache like this since I was a little boy. |