Home Alone 3
(1997)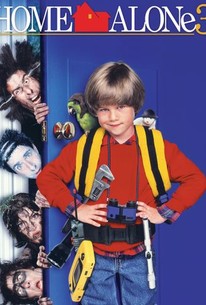 Movie Info
Alex D. Linz replaces that other kid and thereÕs a new cast of villains, but the formula remains the same.
Critic Reviews for Home Alone 3
Audience Reviews for Home Alone 3
Its forgettable but its not that bad. I appreciate the film makers for trying to better the first two entries. The new child left home alone isn't a bad actor and neither are the theives. Also, the tricks played in this film are even darker than the first two and they still carry their appeal depending on what mood your in.
Directors Cat
Super Reviewer
Considering that the first two films are family film classics, this third entry is an abomination. The film is so poorly made, and scripted, that you can't get into the film. The acting is terrible, and the cast do a terrible job at delivering good performances. Forget it; there are no good performances here. There are only bad performances here. What's surprising about this film is that John Hughes wrote the script, and he made some phenomenal films back in the day, The Breakfast Club, Ferris Bueller's Day Off and he also wrote the first two Home Alone films, and made other memorable drama and comedy films. Well, those looking for a good John Hughes written film will definitely be disappointed with this entry to the fun Home Alone franchise. There's nothing good to be had here, only a waste of time. This film was awful, bad and every word you can describe a piece of garbage. On the poster a critic said "It's better than the first two!" uh no it's not. This film is a travesty. I can't believe that John Hughes wrote this. The film is bad. The plot sucks, the acting sucks and everything that made the first two films great are absent. All you have is dull, recycled ideas and there's nothing interesting. There's none of the fun from the first two. If you've seen the first two, and haven't seen this one; you're one of the lucky ones. You're definitely not missing out on anything good; in fact you're avoiding an awful film, and if you've enjoyed the first two, simply stay away from this crap film.
Jim Careter
Super Reviewer
Home Alone 3 Quotes
| | |
| --- | --- |
| Unger: | I can't tell you how much I appreciate you hitting me with a minivan.. |
| Jernigan: | Never let your emotions get the best of you. You weren't paying attention. You should have been more vigilant. |
| Unger: | You should've taken driver's ed. I'm gonna have bad knees when I'm old and I'll have Burton Jernigan to thank. |
| | |
| --- | --- |
| Beaupre: | There are fourteen houses. The toy car must be in one of them. We're gonna have to search them all. We'll come back when it's light. |
| Unger: | We're gonna work houses in broad daylight? |
| Beaupre: | It's the suberbs, Mr. Unger. Nobody's home during the day. |
| | |
| --- | --- |
| Mrs. Hess: | Well what do you want a wilkie button? |
| | |
| --- | --- |
| Alice: | Good afternoon, my husband and I just moved into the neighborhood. |
Discussion Forum
Discuss Home Alone 3 on our Movie forum!