Home Movies
(1980)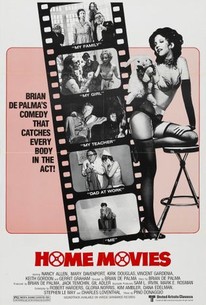 AUDIENCE SCORE
Critic Consensus: No consensus yet.
Movie Info
Brian DePalma created Home Movies with the students in his film class at Sarah Lawrence University. This loose black comedy, suggestive of DePalma's earliest work, stars Kirk Douglas as Tuttle, a cult leader who inspires nerdy Denis (Keith Gordon) to seize control of his life by documenting every significant moment of it on film. As a result, Denis takes his camera and woos his brother's girlfriend (Karen Allen), reveals his father's extramarital affair, and films himself in a variety of increasingly bizarre scenarios.
Critic Reviews for Home Movies
Audience Reviews for Home Movies
½
An incoherent, unfunny and strange comedy movie by De Palma, a good director in suspense films, but very bad in humor. Sometimes, Home Movies have his moments, unfortunately flaw with the lack of laugh in the audience and make the people doesn't care about the characters or they destiny. Boring and forgettable. Rotten.
Lucas Martins
Super Reviewer
This is a little known independent film made by Brian De Palma in-between "The Fury" and "Dressed To Kill". It was made with a crew of young film students as a philanthropic hands-on exercise in movie-making, helmed by De Palma and with contributions from his Hollywood contacts: composer Pino Donaggio; actors Kirk Douglas, Gerrit Graham and Nancy Allen; editor Paul Hirsch, etc. The hope was that the movie would be a commercial success and would kick-start a wave of independent film-making. Unfortunately, this didn't happen, but "Home Movies" is still a little gem which is well worth seeking out. Its humour is rather more absurd and less gentle than that of De Palma's first feature, "The Wedding Party", though the tangible enthusiasm for the project by all concerned is somewhat similar to that film's. This is more than just a fascinating cul-de-sac in his career, containing as it does a few of the recurring motifs of his major work, most notably voyeurism ("Hi, Mom!", "Sisters", "Body Double", etc) but also the idiosyncratic use of railway stations ("Dressed To Kill", "Blow Out", "The Untouchables", "Carlito's Way"). One comic episode in which Keith Gordon, grease-painted and sporting an afro wig, is assaulted by a racist cop reminds one of the "Be Black, Baby" segment in "Hi, Mom!". Essential viewing for die-hard De Palma fans.
too bad this school-Hollywood experiment isn't better; Allen, Gordon are OK & Douglas shows he can cop a star presence even in this
Adam Mahler
Super Reviewer
Home Movies Quotes
There are no approved quotes yet for this movie.