Horror Hotel
(1961)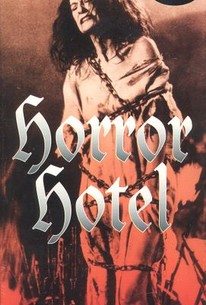 Movie Info
A young coed goes to New England to write a paper on witchcraft. Her professor recommends that she spend her time in a small inn called the Raven's Inn. There, she notices some strange happenings. And, then she discovers she is marked for sacrifice.
Critic Reviews for Horror Hotel
Audience Reviews for Horror Hotel
½
I don't know why you'd want to study witchcraft in college, but I suppose someone might want to. And then to visit an old village in the middle of nowhere to do some research alone? That sounds like a horror movie waiting to happen. The girl in this movie isn't too bright, but the witches and warlocks know what they're doing. This movie is pretty good as a cautionary tale, but it could have been made better.
½
Given the runaway success of Hammer's horror movies at the time that this rival feature was made, I find it remarkable that, besides poaching one of the studio's stars, Christopher Lee, Horror Hotel a.k.a. City of the Dead owes practically nothing to Hammer; in actual fact, it's barely even recognisable as a British movie. The groovy teenage characters, presumably a reflection of the target audience of the day but dating the picture badly, recall in particular the output of American International Pictures. Curiously, but coincidentally since all three movies were in production at the same time, certain elements of Horror Hotel are uncannily reminiscent of two much more famous and influential horror movies: Mario Bava's Black Sunday a.k.a. The Mask of Satan (the opening scene) and Hitchcock's Psycho (heroine slain at remote hotel; sibling and lover investigate her disappearance). Beautifully photographed in black and white, with the fog machine switched to overdrive, the atmosphere is wonderfully potent. Adopting a rare American accent, Christopher Lee gives an excellent, understated performance as a college professor specializing in the occult; Patricia Jessel and Valentine Dyall are equally marvellous as the leaders of a Massachusetts witches coven.
One of my favorite old horror films! Also one of the most atmospheric horror films ever made. To me, atmosphere is definitely one of the most important qualities that's needed in a horror film, and this movie has all the atmosphere that a horror movie needs. The movie is spooky in parts as well and the story is chillingly carried out by a great script. This is the perfect movie to watch on a dark rainy night(perhaps even on Halloween), and although it might not frighten you as much, it's still a fun and entertaining as hell little popcorn flick. "On 03 March 1692, in Whitewood, Massachusetts, the witch Elizabeth Selwyn is sentenced to be burned at the stake, and her partner Jethrow Keane asks Lucifer to save her. About three hundred years later, the college student Nan Barlow decides to spend her vacation in the town to research witchcraft. Her professor Alan Driscoll suggests Nan to lodge in the Ravens Inn, managed by Mrs. Newless. Once in the village, the naive Nan is advised by the local priest, Reverend Russell, to immediately leave the place, where devil has ruled over for three hundred years, but she decides to stay and find that she is in a coven of evil witches. Nan vanishes, and the granddaughter of Reverend Russell, Patricia Russell, pays a visit to Nan's skeptical brother, Richard Barlow, and her boyfriend Bill Maitland, and they decide to follow her steps. Once in New England, they realize that a group of immortal witches have to sacrifice two beautiful women per year, one on Candleman Eve on February 1st, and the other on the Witch Sabbath, to stay alive forever, and only the shadow of a cross would be able to destroy them." Yes indeed. This is quite possibly my favorite horror film that's based on witchcraft. Highly Recommended! Other Reviews: "Moxey(director) takes the Lovecraftian atmosphere, repetition, and dread of Carpenter and combines it with the plot of Bava while incorporating some ironically coincidental, but nonetheless effective, scenes from Hitchcock." - The Horror Review "Horror Hotel is a triumph of atmosphere - the township encased in perpetual fog, the coldly glaring villagers, silhouetted figures staggering across graveyards dragging giant crosses." - The SF, Horror and Fantasy Film Review "Horror veteran Christopher Lee probably gives what is his finest performance; and director John Llewellyn Moxey builds the tension like a true maestro, with Desmond Dickinson's enshrouding B/W cinematography a huge asset." - eFilmCritic "Although movies about Satanists are a dime a dozen today, one of the first films to accurately portray Satanism is the 1960 classic, Horror Hotel." - DVD Cult Review "The four-star level of weirdness earns Horror Hotel a place alongside the most memorable cult movies ever made." - Hollywood Gothique "For fans of classic horror there is much to enjoy here, from witch-invoked curses, black magic, and shadowy cloaked figures through to the haunting finale in the graveyard. This is everything a supernatural chiller should be." - Digital Retribution
jd cryptic
Super Reviewer
Horror Hotel Quotes
There are no approved quotes yet for this movie.