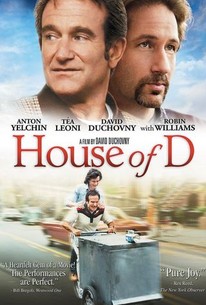 House of D
2004, Comedy/Drama, 1h 36m
102 Reviews
5,000+ Ratings
Rate And Review
Movie Info
In the present, artist Tom Warshaw (David Duchovny) recalls his traumatic coming of age. As a 13-year-old (Anton Yelchin) growing up in New York City in 1973, Tom hangs out with Pappass (Robin Williams), a mentally disabled man. With Tom's mother (Téa Leoni) battling depression after the death of her husband, the young boy is left to his own devices. When Tom develops a crush on schoolmate Melissa (Zelda Williams), Pappass feels abandoned and begins behaving erratically.
News & Interviews for House of D
Audience Reviews for House of D
A awesome film. When I first picked up this film from a pawnshop I put it on my watch someday stack. Well a few weeks ago it came to the top of the pile and I still put watching this movie off. Boy am I sorry. David Duchovny score big on his first attempt to write a movie. The story really hit home. Pretty much David who plays Tom Warshaw, tells his story of when he turned 13. Nothing can be said about the cast that would do it justice. Anton Yelchin who played Tommy did a stellar performance. Erykah Badu who played Lady was a true life character. And of course Robin Williams fits the role of a mentally handicap person not a hard role for him to play. What amazed me was The Title House of D, and The Writer David Duchovny having the initials DD. 5 stars no less.

Very heartfelt, realistic movie. I just fell in love with the character of the little boy. All the characters were memorable. I just don't really see the main point that ties the whole thing together though. I think maybe I'm missing something. If a movie can make you laugh out loud and get choked up, it deserves at least three stars. Bravo!

There were a lot of parallels in this movie with my personal life. Like the main character, I also turned 13 in 1973. My father died of cancer that year so I identified with the turmoil of the time.

I really appreciate Duchovny for having spearheaded this family project, directing and acting as the adult male lead. There isn't any violence, action, or perverse scenes since this is a 13-year-old's coming-of-age story. Williams, Leoni, Badu, and Duchovny all provide heartworming performances that make the plot very interesting to follow - start to finish. It's very saddening to see so many hardships amount in the young boy's life, yet the film concludes with everything in its right place. I even noticed the film was filmed in my own beautiful homecity, Toronto (appears as New York).
See Details