Humko Tumse Pyaar Hai
(2006)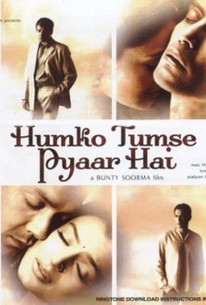 AUDIENCE SCORE
Critic Consensus: No consensus yet.
Movie Info
The story begins in a little village, where a blind girl called Durga lives with her mother. Inspite of Durga being blind she has a special gift, she makes beautiful clay statues. Durga meets the handsome Rohit, who is impressed by Durga's art and beauty. They both fall in love with each other. One day, a village goon named Rana attempts to rape her but Rohit comes to her rescue, which leaves a furious Rana making all sorts of threats against Rohit. Later, Rohit takes Durga to an eye hospital, where Dr. R.K. Prasad performs a surgery on her eyes. The operation proves to be successful, but before the bandage is taken off from Durga's eyes, Rohit goes to arrange for their wedding. On the way, Rana and his friends try to kill Rohit, and in this incident, both Rana and Rohit die. When Durga learns about Rohit's death, she tries to commit suicide, but is saved by Dr. Prasad. He takes Durga to Switzerland for a change and there she meets Raj, a rich man who falls in love with her. Dr. Prasad convinces Durga that Raj is a good boy and that he wants to get married to her. Durga agrees to get married but now Raj comes to know that his childhood friend, Rohit is still alive. Raj brings Rohit home and Durga doesn't recognize him as she has never seen him.
Critic Reviews for Humko Tumse Pyaar Hai
There are no critic reviews yet for Humko Tumse Pyaar Hai. Keep checking Rotten Tomatoes for updates!
Audience Reviews for Humko Tumse Pyaar Hai
As of when this is being written, the Flixster users' rating (430 ratings so far) is 4 stars!!! Despite of my firm belief in the "difference in opinion" ideology, I'm unable to digest this rating. I wouldn't have been surprised if it were 40-50 ratings, but 430 ratings & yet this crap manages to get a rating of 4 stars really makes me wonder. If any of my friends is reading this & haven't watched this movie as yet (chances are quite high for that), I'll really appreciate it if he/she can check it out & give me their opinion/rating for this movie. If at all anyone decides to take the fall, please go for it only & only at your own risk. And even after you confirm yourself that you won't held me responsible in case you've to go through any torture in the process, take one more step of caution for my sake: Take a pledge, or swear to God or someone you love the most that you won't come after me to murder me, just in case you happen to know where I live!!!
familiar stranger
Super Reviewer
Here's a good movie with an appealing story plot that centralizes around love and commitment, and the solidarity of family and friendship. Young Durga is blind and almost met a certain doom until she met, and was saved by, Rohit. The two fall in love, and begin a binding relationship until Durga's world collapses. The two are then separated, and their love tested. Great cast- Amisha Patel, Arjun Rampal. and Bobby Deol. Worth seeing!
Humko Tumse Pyaar Hai Quotes
There are no approved quotes yet for this movie.