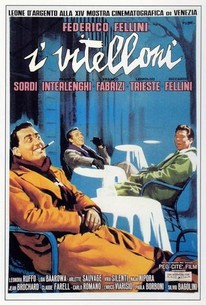 I Vitelloni
1953, Comedy/Drama, 1h 43m
29 Reviews
5,000+ Ratings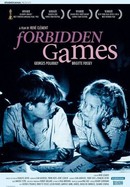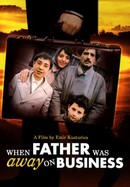 When Father Was Away on Business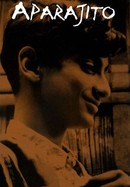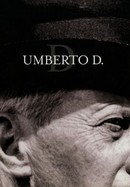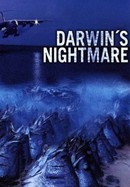 Where to watch
In Theaters
Rent/buy
Subscription
Rent/buy
Rate And Review
Movie Info
Five young men dream of success as they drift lazily through life in a small Italian village. Fausto (Franco Fabrizi), the group's leader, is a womanizer; Riccardo craves fame; Alberto (Alberto Sordi) is a hopeless dreamer; Moraldo (Franco Interlenghi) fantasizes about life in the city; and Leopoldo (Leopoldo Trieste) is an aspiring playwright. As Fausto chases a string of women, to the horror of his pregnant wife, the other four blunder their way from one uneventful experience to the next.
News & Interviews for I Vitelloni
Audience Reviews for I Vitelloni
'I Vitelloni' has that post-war existential feel to it, and effectively transports us to a small town in Italy where five young men dream of escaping someday, but have no clear plans. There are some wonderful scenes that are easy to identify with - carousing in the street at night, walking along the beach, and dancing the night away at a party. The friends all feel a sense of bleak malaise, facing a future in a small town with nothing much to look forward to. While the older characters are hard-working models of virtue who have lives that really don't seem all that bad, the scene when Fausto (Franco Fabrizi) is put to work is priceless. His face beautifully expresses that moment when one has to face the realities of the world. The character of Fausto dominates the story, at first as he's forced by his father into marrying the girl he's gotten pregnant (Leonora Ruffo), and then as he can't keep himself from hitting on other women. He's incorrigible and a hard guy to like; we cheer when his father (Jean Brochard) breaks out a can of whoop-ass and he's the recipient. There is something missing to the movie though. The characters are developed unevenly, most of all Riccardo the singer (played by Fellini's own brother), and sometimes the events feel a little disconnected. Perhaps that's the point though. And we really feel something for Leopoldo (Leopoldo Trieste) as he reads an aging actor (Achille Majeroni) his screenplay, only to be horrified by the latter's response. How sad that Vittorio De Sica turned down the role because he was afraid of being identified as actually gay. Lastly, we also identify with Moraldo (Franco Interlenghi), who wanders the streets at night alone, befriends a young boy, and eventually makes it out; a feeling which is amplified knowing he represents Fellini himself. Not a perfect film, but it works.

Having refined his directing skills, Fellini delivered this lyrical autobiographical story with a great cinematography and a breathtaking circus-like carnival scene, but its quasi-episodic structure makes it feel a bit unfocused, with unequal screen time devoted to each of the "vitelloni."

Fellini's autobiographical film is another result of the great "human" films coming out of Italy in the 50s. There is often not too much glitter in the lives of these individuals but their humanity and trials and tribulations makes you want to watch them closely.

A lovely film, though it's definitely a creature of another era. This is early Fellini back in his neo-realist period, and only an isolated carnival sequence hints at the matured director's trademark sense of spectacle. I'm hardly the first to say so, but "I Vitelloni" sure reminds me of Barry Levinson's "Diner" (one of my favorite films ever). Yes, it's another close-knit circle of likable, well-dressed, slick-haired young men who somehow just can't find a solid path in life, despite approaching the problem from a variety of angles. The main criticism I have of "I Vitelloni" is that the screenplay doesn't give the five lads equal time, and thus the story of the womanizing Fausto somewhat overwhelm the others' sketchier tales.
See Details