I Vitelloni
(1953)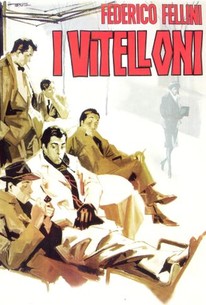 Movie Info
Italian maestro Federico Fellini's first international success is a nakedly autobiographical film that bears many of the formal and thematic concerns that recur throughout his work. Set in the director's hometown of Rimini, I Vitelloni follows the lives of five young vitelloni, or layabouts, who while away their listless days in their small seaside village. Fausto (Franco Fabrizi), the leader of the pack, marries his sweetheart, but finds himself constantly distracted by other women. Meanwhile, would-be playwright Leopoldo (Leopoldo Trieste) continues work on his dreary plays, dreaming of staging them one day. Clownish Alberto (Alberto Sordi) still lives at home with his mother and sister, Olga (Claude Farell), while boasting of preserving the family honor by watching over her. While the movie seems to pay little attention to Riccardo (Riccardo Fellini) and Moraldo (Franco Interlenghi), the latter eventually emerges as its key character, plainly serving as Fellini's alter ego. Stuck in adolescence, the five friends stumble into various misadventures, as they seek to spice up their uneventful provincial lives. Ultimately, one of them breaks free from their self-imposed paralysis and moves on, leading to one of the most poignant farewell sequences in film history. A hit in Italy upon its release, I Vitelloni secured Fellini's reputation as an up-and-coming talent, while also introducing its title into Italian vernacular.
News & Interviews for I Vitelloni
Critic Reviews for I Vitelloni
Audience Reviews for I Vitelloni
Having refined his directing skills, Fellini delivered this lyrical autobiographical story with a great cinematography and a breathtaking circus-like carnival scene, but its quasi-episodic structure makes it feel a bit unfocused, with unequal screen time devoted to each of the "vitelloni."
Carlos Magalhães
Super Reviewer
½
Scorsese is obviously a fan of this Italian Neo-Realism classic. It's not my favorite, but it's definitely worth checking out if you're a fan of the genre.
Ken Stachnik
Super Reviewer
½
my new favorite fellini. i'm not a huge fan of his later works but mean streets is all over this. hell, the very first scene was lifted for goodfellas. tho mainly a masterpiece of neorealism, fellini's later style is evident in the carnival scene among other whimsical touches and his signature dreamlike atmosphere is pervasive, albeit in the form of memory. that he can make us care so much about this group of pathetic slackers is amazing to me. i had to watch it again right away. so even if ur not a fan, u might want to give it a chance. hilarious and heartbreaking
Stella Dallas
Super Reviewer
I Vitelloni Quotes
There are no approved quotes yet for this movie.