Galapagos: The Enchanted Voyage
(1999)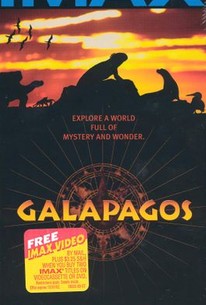 Galapagos: The Enchanted Voyage Photos
Movie Info
Part adventure, part scientific expedition, part personal quest, this stunning film takes us on a journey with marine biologist Dr. Carole Baldwin from the Smithsonian Institution's National Museum of Natural History during her first trip to the Galapagos. Traveling to the terrestrial world of the islands which were first chronicled for science over 160 years ago by Charles Darwin, the audience dives with Dr. Baldwin and Ecuadorian naturalist Mathias Espinosa into the largely unknown waters surrounding the volcanic archipelago to explore the natural wonders of a realm that is a true living natural science laboratory. The film reveals a world that is still relatively new and evolving --- a place which provides scientists with a window into the past and a frontier for exploration. Along with other scientists, Dr. Baldwin utilizes the expedition's high-tech equipment, descending to depth of 3000 feet [915m] underwater, to study biodiversity and the processes of evolution as part of an on-going effort by scientists to understand the forces which may ultimately affect the survival of our own species.
Cast
Critic Reviews for Galapagos: The Enchanted Voyage
Audience Reviews for Galapagos: The Enchanted Voyage
½
Interesting, but often carries on and on about one thing.
Galapagos: The Enchanted Voyage Quotes
There are no approved quotes yet for this movie.