In Order of Disappearance
(2016)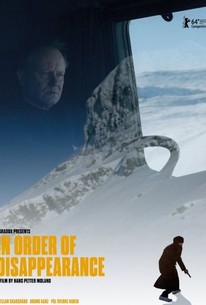 TOMATOMETER
AUDIENCE SCORE
Critic Consensus: In Order of Disappearance's black comedy doesn't always hit its targets, but on the whole, it still adds up to a sly, entertaining revenge thriller.
In Order of Disappearance Videos
In Order of Disappearance Photos
Movie Info
Introverted and hard-working snow plow driver Nils has just been named Citizen of The Year, when he receives news that his son has died of a heroin overdose. Disbelieving the official report, Nils soon uncovers evidence of the young man's murder--a victim in a turf war between the local crime boss, known as "The Count", and his Serbian rivals. Armed with heavy machinery and a good dose of beginner's luck, Nils embarks upon a quest for revenge that soon escalates into a full-blown underworld gang war, with the body count spiraling ever higher and higher.
News & Interviews for In Order of Disappearance
Critic Reviews for In Order of Disappearance
Audience Reviews for In Order of Disappearance
½
I'd like to start off this review by talking a little bit about John Hurt, who sadly passed the 25th of this month, three days after his 77th birthday. There have been many lovely things written about John Hurt online, in twitter and other websites, from fans and colleagues of him. So I just wanted to give my two cents on him. I honestly don't think words can do justice to the greatness of John Hurt and his talents as an actor. Particularly for a man who had a career as long and as varied. in terms of roles, as his. He leaves behind a stellar body of work for film geeks to obsess over for generations. And his talent will never be forgotten, it will only grow stronger. You will be missed, kind sir. Been thinking about popping in Snowpiercer once more to watch Hurt at his best. And the movie's relevance is even more obvious in today's climate. I felt like I had to start with that because, Stellan Skarsgard is just one of those actors who has always been great. And consistently too, yet he's never really gotten the credit for it. I mean he has, obviously, but I think he deserves far more of it, because this man has had a stellar career. Stellan is the type of guy that I'd watch a movie with just because he's in it, because I know that he's gonna be great, even if it's a minor role. And, obviously, that is no different in this movie, where he delivers the good once more. It also helps that this is a really damn good vengeance story that, while not the best I've ever seen, really builds up steam to a fairly exciting crescendo. I will start with the obvious, though, and that is that this movie's portrayal of women is not particularly favorable. Nils' wife abandons her husband after their son dies, for literally no reason whatsoever. As if she blamed her husband or something she didn't do. Nils' brother's wife is also quite irrational in her behavior. And Greven's (the villain) ex-wife is a raging asshole. And you could say that the movie tried to make these women seem the more rational, particularly when compared to all of the violent shit going on around them, but I do believe the movie goes out of their way to make them seem as unlikable as humanly possible. And that wasn't effective storytelling to me, the women in this movie are just far too one-dimensional. And that's not even saying the male characters are complicated, the film essentially boils down to a story about fathers and sons, and the lengths they'll go to to protect them. I do think the movie does a good job at involving several different players are more layers of Nils' plan to take down Greven is revealed. Nils kills three of Greven's people, which leads Greven to believe that it's the Serbians, with whom they've had a peaceful co-existence. So Greven kills one of the Serbians to show them that he will not be fucked with. It turns out that the man they killed was the son of the Serbian boss. So now you have gang warfare in top of a very simple tale of one normal citizen, Nils, trying to avenge his son's death. It all plays out in very entertaining fashion. Not to mention the fact that there's a darkly comedic tone in the film that gives it some levity. Greven, the villain, has some of the most entertaining scenes in the entire movie. One of the movie's coolest features is that whenever a character dies, a black screen is shown with the character's name and a cross above it, if they were Christian as an example. There's a Star of David for a Jewish character who is murdered. It's something so simple, yet it's probably the coolest thing about the entire movie. Because, that way, you can kill off a character without actually having to show you. They can just show you the black screen with the name and you'd know they were fucked. Again, it's very simple, but I liked it a lot. The movie shares a lot of with Fargo, the film not the series The setting definitely helps a lot, but the film's tone and style is also similar. It's obvious that inspiration was drawn from the Coens' 1996 classic. And I don't blame them for that in the slightest, it's a great movie to draw inspiration from. But they do find a way to tell their own story in their own way, so it's not a shameless rip-off. The performances are top-notch, so no complains there at all. I really liked this movie a lot, it's not a perfect movie. The characterization of women leaves a lot to be desired and none of the other characters are really super complex, but I'd still recommend this movie if you have Netflix. This is a very good movie and another testament to Stellan Skarsgard's talents as an actor.
Jesse Ortega
Super Reviewer
½
Considering that this came out in 2014, it's surprising that it took two years to get distribution in the US. Even more perplexing is that Liam Neeson liked the film so much that he is working on a remake already. Because we need "Taken 4: The Takening". Perhaps most surprising of all is that amidst the strange circumstances surrounding "Kraftidioten", there aren't many surprises in the film itself. It is a decent vehicle for Stellan Skarsgard who some may know as the old scientist fellow in the Thor movies. But considering that it is billed as a black comedy, it's not very funny, and the only "amusement" comes from the idiosyncratic characters. With a concept like this, that is, check-marking off each character violently or subtly, the filmmakers didn't seem to put much effort into having any sort of payoff. This is a concept that has potential, but unfortunately it is relegated to a perfunctory glibness. There is no pop or stylistic touch to rattling off these characters, and there is no satisfaction or triumph in turn. However, it is a beautifully shot film set in the bleak Norwegian landscape. As revenge/crime thrillers go, there isn't anything new here, but it is definitely worth admission price. Also, Hitler from "Der Untergang" and Tormund from "Game of Thrones" pop in for some star power. I'm not looking forward to the remake though.
K Nife Churchkey
Super Reviewer
In Order of Disappearance Quotes
There are no approved quotes yet for this movie.