In the Custody of Strangers
(1982)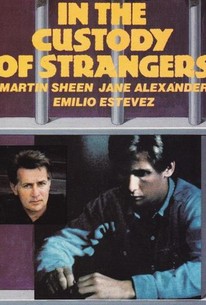 AUDIENCE SCORE
Critic Consensus: No consensus yet.
In the Custody of Strangers Videos
In the Custody of Strangers Photos
Movie Info
Real-life father and son Martin Sheen and Emilio Estevez star in the made-for-TV In the Custody of Strangers. Blue-collar Sheen and his wife Jane Alexander attempt to instill discipline in their three growing children. But their 16-year-old son Estevez chafes at their authoritative attitudes, and runs seriously afoul of the law. Picked up on a drunk-driving charge, Estevez is charged with assault and battery when he fights off the sexual advances of his cellmate. His release continually delayed by judicial red tape, Estevez holds his parents, who are virtually helpless within the strictures of the Law, responsible for the mess he's in. But the real villain of the piece is not a person but an entity: The juvenile justice system, which is overworked, understaffed and swamped with dead-end bureaucracy. Scripted by Jennifer Miller, In the Custody of Strangers debuted on May 26, 1982.
Critic Reviews for In the Custody of Strangers
There are no critic reviews yet for In the Custody of Strangers. Keep checking Rotten Tomatoes for updates!
Audience Reviews for In the Custody of Strangers
It's hard to feel sorry for him considering how he acted before he got jailed... he was just a rebellious egotistical punk, I never really felt that sorry for him during the movie, the ending the parents acted like he was a hero and a survivor.. The movie obviously challenges the fact teenagers getting put in prison and how they shouldn't be treated like that... I Disagree... 2 stars for the acting and realism... but in the end it's just a propaganda movie to make it seem unjustified teens can be put in jail no matter how crazy they are... Teens are smart enough to realize what is right and wrong.
Paul Atkinson
½
I bet Frank Caldwell was wishing he would've never left his son in jail to try & teach him a lesson but I can't blame him.If my son was driving drunk & pulling crap like Danny was, I would've done the same thing.After watching the ending, You can see jail has hardened Danny.This movie tries REAL hard to show you jail isn't a fun place to be
Brody Manson
Super Reviewer
Unemployed Martin Sheen makes this film work as his son gets in jail. Not a bad kid initially, but trying to get him out is the problem as the system takes over in a depressed steel town. A tale of frustration for Martin Sheen, his wife, the son and us, the audience. RT gets low marks again for not mentioning Sheen in their synopsis of the movie. How can a role as prominent as the father that Sheen plays be missed in the credits? Of course, in the extended remarks Sheen's name does appear, buried with the entire cast. A one time case of drunkeness over his plight at home and his girlfriend moving lands him in jail. The title says it all. Worth watching with touching drama at times. The only criticism of Sheen's acting is that he uses some sort of hoosier rural accent when he gets mad but returns to a civil accent when he is calm. When angry he over acts. The father has a short temper but Sheen goes hyper angry playing him. The ending is quite dramatic after being released from a 40 day jail sentence that should have been one night. Cast Martin Sheen (the father) Emilio Estevez (the son) Jane Alexander (the mother) Kenneth McMillan Ed Lauter Virginia Kiser Crew Director: Robert Greenwald Associate Producer: William Beaudine Jr. Cinematographer: Isadore Mankofsky Composer: Matthew McCauley Editor: Robert Florio Music Supervisor: Matthew McCauley Producer: Frank Von Zerneck Production Designer: Norm Baron Screenplay: Jennifer Miller Set Decorator : Robert Checchi Sound : Barry Thomas
monsieur rick
In the Custody of Strangers Quotes
There are no approved quotes yet for this movie.
Discussion Forum
Discuss In the Custody of Strangers on our Movie forum!