In the Mouth of Madness
(1995)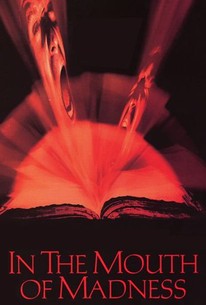 In the Mouth of Madness Photos
Movie Info
This John Carpenter horror movie simultaneously honors and pokes fun at the work of author Stephen King as it depicts a violent and chaotic real world that his been strongly influenced by a horror writer. John Trent, an insurance investigator, has gone off the deep end. The film opens with he and a psychiatrist in a padded cell. There the demented Trent tries to tell his story of violence and confusion. The shrink recognizes that his story is by no means unique, for such events are happening everywhere. Trent believes that the cause of the chaos lies within the writings of author Sutter Cane who recently disappeared. Trent was hired by the writer's publisher to find him, and this lead him to his conclusion that Cane was somehow behind it all. Trent was assisted by Linda Styles, Cane's editor. Together they went to find Hobb's End, the fictional location of Cane's tales. They found it in New England. What was even stranger, is that all the terrifying events mentioned in Cane's books came to pass in this innocuous village.
People Who Like this movie also like
Critic Reviews for In the Mouth of Madness
Audience Reviews for In the Mouth of Madness
Now this is your complete John Carpenter experience right here, the perfect type of film for his crazy ass imagination. Everything Carpenter made prior to this has elements all rolled in resulting in classic Carpenter horror mixed with body shock mutations. The plot is creepy as it is surreal. Sam Neill is hired to find a missing horror writer in a small sleepy leafy US town, boy does Carpenter love small US towns. He must find Sutter Cane and retrieve his final novel for publishing. Sounds simple eh? well think again. When I first saw this film it creeped me out a lot, these days it doesn't have the same kind of punch but its still solid. Carpenter goes into overdrive here with lots of trademark icky effects and monsters, most of which look like ideas from 'The Thing'. As usual effects are created with models and puppets which do now look a bit hokey but plenty of makeup and prosthetics and good use of suggestion. The whole film is extremely surreal and plays out like a nightmare, in fact the whole point is you don't know if it is a nightmare or reality. Pretty much anything goes really as Sam Neill goes nuts trying to get out of Hobb's End and destroy the final evil horror manuscript. This surrealist approach does work and offers up plenty of weirdness which does equal some nice eerie moments, the ghostly boy cycling along the dark deserted highway at night being a good one. The start of the film is definitely better than the second half and ending. The film is much more creepy as Neill and his female sidekick leave for and arrive at Hobb's End. After Neill gets what he needs and we return to reality the film slightly loses its mysterious spooky essence, the final sequence is an interesting twist to make you think. Basically a descent into madness for Neill's character, but we're not even sure if he is a real person or not, could it all be part of the horror novel itself?. Its left to your own thoughts really which is cool but annoying also, I like to know what happens period. If your a Carpenter fan then this will appeal with tentacled monster puppetry, creepy kids running about, satanic references and all set within a Michael Myers type American pie town. Just don't expect too many final answers regarding characters and plot.
Phil Hubbs
Super Reviewer
An insurance investigator investigates the disappearance of a bestselling horror novelist whose books have the power to drive men mad. The pioneering meta-horror premise compensates for an ordinary execution.
½
After "The Thing" in 1982 and "Prince Of Darkness" in 1987, director John Carpenter completed his self-titled 'Apocalypse trilogy' in 1994 with "In The Mouth Of Madness". Unfortunately, by this point, Carpenter couldn't get any strong studio backing for his projects and as a result his excellent concepts never really took off as well as they could have. This film is another example of the financial problems that he was facing. When renowned horror writer Sutter Cane (Jurgen Prochnow) makes a sudden disappearance, strange things begin to happen. His ability to describe evil, literally, starts to come to life and effect everyone in society. To investigate his mysterious disappearance, Insurance investigator John Trent (Sam Neill) is sent to a little East Coast town called Hobb's End. However, this little town is actually a figment of Cane's imagination and Trent soon finds himself questioning his own sanity as he is drawn further and further into the dark recesses of Cane's twisted mind. As always with Carpenter, the concept and premise is one of sheer brilliance and it possesses more than few references to real life horror writers Stephen King and H.P. Lovecraft but unlike his previous efforts there is something amiss here. Maybe it's because Carpenter doesn't actually write the script himself or even compose the soundtrack with the idiosyncratic and atmospheric style that fans of his will be accustomed to. Despite the excellent premise, I found that the films major issue was a lack of drive. It didn't catch me the way it did when I first seen it. Also, it suffers from a failure to bring a depth to any character other than Sam Neill's investigator. Sutter Cane is a very intriguing antagonist with a lot of potential but he features very little and when he does appear, the films budget is tested in order to realise it's horror. All in all, this struck me as an attempt from Carpenter to appeal to a wider audience and as a result sacrificed the very style that made him a unique filmmaker to begin with. That's not to say that this is a poor film. It's not. It's very cleverly constructed and for the most part, very well delivered. Carpenter is a master at his build up and construction of atmosphere, meanwhile, cleverly unravelling the mystery. However, the film takes a little too long to get going and just when it's hitting it crescendo, it feels rushed and over a bit too soon. For the most part, Carpenter does well to blur the lines between fantasy and reality but ultimately it doesn't quite come together as obscurity and pretentiousness creep in. It's a great attempt, but Carpenter has delivered better. Mark Walker
Mark Walker
Super Reviewer
In the Mouth of Madness Quotes
| | |
| --- | --- |
| Axe Maniac: | Do you read Sutter Cane? |
| | |
| --- | --- |
| John Trent: | Every species can smell its own extinction. The last ones left...won't have a pretty time of it. And in ten years, maybe less...the human race will just be a bedtime story...for their children; A myth...Nothing more. |
| John Trent: | Every species can smell its own extinction. The last ones left won't have a pretty time of it. And in ten years, maybe less, the human race will just be a bedtime story for their children; A myth, nothing more. |
| John Trent: | Every species can smell its own extinction. The last ones left won't have a pretty time of it. And in ten years, maybe less, the human race will just be a bedtime story for their children. A myth, nothing more. |
| | |
| --- | --- |
| John Trent: | It's Cane's story...and it'll spread with each new reader. That's how it gets its power. |
| John Trent: | It's Cane's story and it'll spread with each new reader. That's how it gets its power. |
| Dr. Wrenn: | What about the people who don't read? |
| John Trent: | (smiles) - There's a movie. |
| John Trent: | (smiles) There's a movie. |