In the Spider's Web
(2007)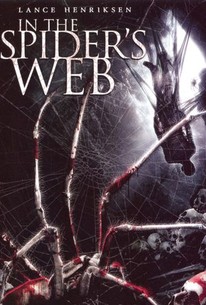 AUDIENCE SCORE
Critic Consensus: No consensus yet.
Movie Info
In this creepy-crawly entry into the "Maneater Series," a venomous spider that's worshipped as a god by the local tribes bites a backpacker making her way through the jungles of India. On the last night of an extended tour through India, six hikers go to sleep thinking that tomorrow they will return to the comforts of their own homes. Their pleasant dreams soon turn to nightmares, however, when a highly poisonous Bolivian Baja spider bites seasoned traveler Geraldine (Jane Perry). Now, Geraldine's only hope for survival is to place her trust in the enigmatic Dr. Lecorpus (Lance Henriksen) - an American ex-patriot once accused of being a globe trotting organ thief. Now, in a village where arachnids are thought to be supernatural deities, the survivors of this terrifying excursion struggle to break free from both the creatures who would drink their blood for breakfast, and the human who would sell their organs for profit.
Critic Reviews for In the Spider's Web
All Critics (2) | Fresh (0) | Rotten (2) | DVD (1)
We're treated to some of the most hilariously sloppy CGI work you've ever seen, followed by (get this) rubber spiders dangling from strings! And not just a few of 'em. They're everywhere!
Audience Reviews for In the Spider's Web
Sylvester Kuo
Super Reviewer
Part of the "Maneater Film Series. This is a pretty creepy movie from the start. If it doesn't make you skin crawl your a better man then I am. Its about a some students that go backpacking in the Jungles of India, One of them is bitten by a poisonous spider and they are to far from a town or village to get help so they must find a well known doctor who is lost in the jungle, a Dr. Lecorpus, (Like I would go looking for a guy with this name). The Jungle Tribe that the good Doctor lives with worships spiders. But there is something shaky going on here. The good Doctor is selling the body parts of missing hikers to the Black Market. Its one of the better films in Maneater Film Series. I have to give it 4 stars
Bruce Bruce
Super Reviewer
This movie was OK for a film of its type if you do not expect to much. The movie has some good CGI of the spiders and they look OK. Lance Henriksen is a good choice for the doctor so he can do his made man thing again and is a good star name for the movie. The rest of the cast are good for mostly young teen actors. The direction was OK if a bit slow moving. The sound is also good and really helped the film along.
Steven Vincent Gee
Super Reviewer
In the Spider's Web Quotes
There are no approved quotes yet for this movie.