Inauguration of the Pleasure Dome
(1954)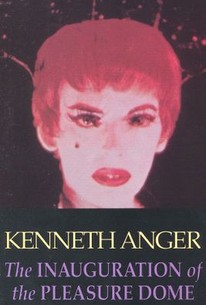 AUDIENCE SCORE
Critic Consensus: No consensus yet.
Movie Info
Directed by famed homoerotic underground filmmaker Kenneth Anger in 1954, Inauguration of the Pleasure Dome is considered a key work of American experimental film. It has been cited as an influence on Roger Corman's Edgar Allan Poe series and on certain shots in Martin Scorsese's Kundun. Inauguration of the Pleasure Dome varies in length from 38 to 43 minutes, depending on the print or video, and also exists in a version altered by Anger in 1966. The color film is dedicated to British writer and occultist Aleister Crowley (1875-1947), author of The Diary of a Drug Fiend. Anger's tribute presents a "Dionysian revel." Highlights include appearances by erotica author and diarist Anaïs Nin and by avant-garde filmmaker Curtis Harrington. Anger authored the book of scandal and gossip Hollywood Babylon.
Critic Reviews for Inauguration of the Pleasure Dome
Audience Reviews for Inauguration of the Pleasure Dome
Not sure what to take from this film beyond a certain hedonistic "feast of the gods" ambience, but it's visually spectacular. Compound images, vivid colors, costumes...I'm sure quite a few acidheads have enjoyed tripping to this one over the years (if they could find a copy, that is). The green conehead in the powdered wig becomes a bit grating, but if you've always wanted to see Anais Nin with a birdcage over her head, this film will make your day.
Eric Broome
Super Reviewer
Inauguration of the Pleasure Dome Quotes
There are no approved quotes yet for this movie.