The Indian in the Cupboard
(1995)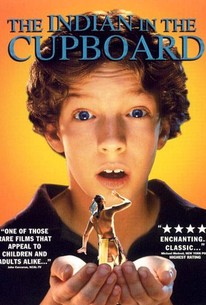 The Indian in the Cupboard Photos
Movie Info
This magical family film is based on a popular children's novel of the same name and tells the story of a little boy who receives a very special gift on his ninth birthday--it is a wooden cupboard that can bring his inanimate dolls to life. Omri is delighted by his gift and after experimenting with figures of RoboCop, Darth Vader, and a dinosaur, he brings to life a three-inch tall Indian named Little Bear with whom he gradually becomes friends. Omri is the only one privy to the cupboard's secret, but he decides to share it with his best friend Patrick, who places a cowboy within it. Naturally Little Bear and Boone, the rather surly cowboy, do not hit it off at first. Eventually though, they become close friends. Omri learns much about life and Native American culture from Little Bear and together they have many adventures until at last the boy realizes that Little Bear cannot survive in his big world and he must send his diminutive friend home.
People Who Like this movie also like
Critic Reviews for The Indian in the Cupboard
Audience Reviews for The Indian in the Cupboard
This is a pretty good kid's film that has some wonderful special effects and an interesting story to boot. The film is entertaining and fun. The cast do a good here and they manage to pull off something special. The film isn't perfect, but for what it is, it's a worthwhile family film. The film is something that the family is sure to enjoy and this is an enjoyable that is memorable and worth watching. The cast is good and there are plenty of good things going on here to make the film interesting and entertaining. Frank Oz's directing is wonderful, and he captures something special on-screen. The lead actor is great in his role, but at times the film tends to falter and become a tad uninteresting. Luckily there are more good elements at work on-screen to make The Indian in the Cupboard a good little film. Despite the flaws, you can't help but feel astounded by the great special effects, which add so much depth to this film. This is a well made film with a good cast and story as well as good directing. If you're looking for a wonderful family film, this is the one to watch. Although it suffers from a few imperfections, it still manages to be one entertaining film worth watching. The Indian in the Cupboard succeeds at being an entertaining film, and I thought it was fairly underrated. The cast and story are good, and in the end, that's what makes it worth seeing. Also the special effects make this one stand out among other films in the genre.
½
Underrated and highly involving movie for kids. A young boy finds out that his cupboard has magical powers and can turn plastic into reality. He first turns a plastic Indian into a real human being. The movie teaches about responsibility but in an understandable way. It isn't patronizing nor childish, which means older audiences should relate to it also. It also mediates on life and death at certain points, and was the first film in a long time to be genuinely emotionally shocking. The relationship between the Indian and the cowboy was very well developed as they started to bond over their tragedies. The film does have a number of loose edges. Rishi Bhat was particularly annoying at times, but in a way he was necessary to play off Scardino. Even Scardino wasn't always a lovable protagonist. In one scene he kicks his brother's pet rat down the stairs, in an event where the rat clearly would have died. As the film hadn't relied on cartoon logic up until that point it was a bit out of place. Great effects, and seeing Darth Vader vs. a T-Rex kind of made up for those moments. A more innocent time when children's movies didn't have to be loud and crass.
Luke Baldock
Super Reviewer
½
I didn't like this movie when I was a kid, but I haven't seen it since, so I don't remember why really... I should see it again sometime.
The Indian in the Cupboard Quotes
There are no approved quotes yet for this movie.