Indiana Jones and the Last Crusade
(1989)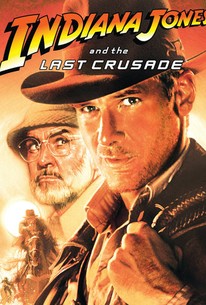 TOMATOMETER
AUDIENCE SCORE
Critic Consensus: Lighter and more comedic than its predecessor, Indiana Jones and the Last Crusade returns the series to the brisk serial adventure of Raiders, while adding a dynamite double act between Harrison Ford and Sean Connery.
Indiana Jones and the Last Crusade Photos
Movie Info
The third installment in the Spielberg/Lucas Indiana Jones saga, Indiana Jones and the Last Crusade evokes many of the thrills of the first two efforts (Raiders of the Lost Ark and Indiana Jones and the Temple of Doom) without blatantly copying either of them. After a lengthy prologue in which we learn how young Indy (River Phoenix) first developed a taste for heart-pounding adventure -- and his lifelong fear of snakes -- we find the grown-up Jones (who else but Harrison Ford?) teaching his archeology classes in 1938. He is approached by an art collector (Julian Glover), who wants Jones to embark upon a search for the Holy Grail. It so happens that another archaeologist has disappeared while searching for the precious goblet; it so happens further that the missing man is Indy's own father, Dr. Henry Jones (marvelously portrayed by Sean Connery). What follows is a roller-coaster of thrills, whisking both the elder and the younger Joneses to Venice, Berlin, and the most treacherous regions of the Middle East. Complicating matters is the presence of lovely Alison Doody, whose attraction to Indy -- and his dad -- does not dissuade her from her loyalty to the Nazi party. As in Raiders of the Lost Ark, the much-sought-after religious artifact in Indiana Jones and the Last Crusade is not so easily found -- and even when it is discovered, its powers are a bit too much for those impure of heart. This Indiana Jones effort set a record by grossing $50 million in the first week of release.
News & Interviews for Indiana Jones and the Last Crusade
Critic Reviews for Indiana Jones and the Last Crusade
Audience Reviews for Indiana Jones and the Last Crusade
½
My favourite of the three. It has plenty of action and a good mix of humour between Ford and Connery.
½
A hugely entertaining adventure that offers everything that made Raiders so successful and more: exhilarating action scenes, hilarious dialogue with a perfect comic timing and, of course, the pleasure of seeing Harrison Ford and Sean Connery together.
Carlos Magalhães
Super Reviewer
Before even the days of "Raiders Of The Ark", Spielberg had expressed an interest in making a James Bond movie but he couldn't get the go-ahead from Bond producer Albert "Cubby" Broccoli. Indy was just as good an opportunity for him, though, and who better to cast as Indy's father than (the original) James Bond himself? It's actually through the casting choice of Sean Connery that this third instalment of Indy's adventures really takes flight and silences the critics of "The Temple Of Doom". In his third outing, Dr. Indiana Jones (Harrison Ford) goes in search of his father, Prof. Henry Jones Sr (Sean Connery) who mysteriously disappeared while searching for the Holy Grail. Once again, though, the Nazi's are also in tow. After losing on the Ark of the Covenant, they too want to get their hands on the Cup of Christ. By the time of this films release everybody was fully aware of Indiana Jones. With only two films under his fedora, every woman wanted him and every man wanted to be him; Indy had already become an icon of American cinema. With a fond familiarity, people welcomed him into their homes and that's the very reason why the opening of this third instalment is such a joy. It's depiction of Indy in his youth is wonderful addition to his backstory and the late great River Phoenix does an excellent job in capturing Ford's mannerisms. We learn of his use of the whip and the resulting scar on his chin. We also get an insight into the procurement of his famous fedora and how his unusual name of "Indiana" originated from the family dog... (It was actually George Lucas' dog that was named Indiana and it also served as the inspiration for Chewbacca in "Star Wars"). After being heavily criticised for his dark tone in "Temple of Doom", Spielberg finds his lighter side again and delivers the funniest and most gleefully entertaining of Indy's adventures. The likes of Denholm Elliott and John Rhys Davies return from Raiders with more fleshed out comical roles but, as mentioned, it's the great interplay between Ford and Connery that's the biggest draw to here. The chemistry between them anchors a poignant family adventure while providing numerous father/son comedic moments. Like the previous two, though, there's no shortest of nail-biting action as World War II is on the brink and the Nazi's are once again Indy's foes and gives Spielberg another chance to put the Third Reich to the test. "Schindler's List" and "Saving Private Ryan" are obviously his more personal films on the subject but with Indy he gets the chance to have fun with them again, leaving this third instalment with more in common with "Raiders" as well as honing in on the biblical aspects of the story. Out goes the Ark and in comes the coveted Holy Grail and while the fourth film in the franchise - "The Kingdom Of The Crystal" - explores a misjudged science-fiction element, it confirms that Indy's adventures are better left in the paths of the religious or the occult. Raiders may still be the absolute classic of them all but it's hard to give a film with as much excitement and entertainment as this, anything less than top marks. Mark Walker
Mark Walker
Super Reviewer
Indiana Jones and the Last Crusade Quotes
| | |
| --- | --- |
| Indiana Jones: | 10 X marks the spot |
| | |
| --- | --- |
| Dr. Henry Jones: | I should have mailed it to the Marx Brothers! |
| | |
| --- | --- |
| Dr. Henry Jones: | Archaeology is the search for fact... not truth. If it's truth you're looking for, Dr. Tyree's philosophy class is right down the hall. |
| | |
| --- | --- |
| Walter Donovan: | (Refers to Marcus Brody) He sticks out like a sore thumb! We'll find him. |
| Walter Donovan: | He sticks out like a sore thumb! We'll find him. |
| Indiana Jones: | The hell you will. He's got a two day head-start on you, which is more than he needs. Brody's got friends in every town and village from here to the Sudan. He speaks a dozen languages and knows every local custom. He'll blend in, disappear and you'll never see him again. With any luck he's got the grail already. |
| Marcus Brody: | (Scene cuts to Iskendrun, where Brody finds himself lost in a crowd of citizens). Uh, does anybody here speak English? |
| Marcus Brody: | Uh, does anybody here speak English? |
Discussion Forum
Discuss Indiana Jones and the Last Crusade on our Movie forum!