Infested
(2002)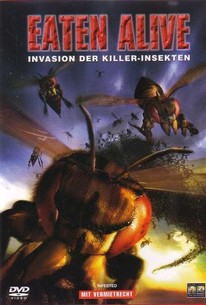 AUDIENCE SCORE
Critic Consensus: No consensus yet.
Movie Info
When tragic circumstances bring five old friends back to their hometown, revisiting their favorite childhood vacation home seems like a great way to mourn the recent death in their lives. None of them, however, are privy to the fact that a mysterious colony of mutant flies have been breeding in the house during their long absence. Within hours of their arrival, the reunited friends become ill-fated hosts for the flies reproductive cycle -- once the eggs have been laid within their bodies, hope for survival is nil. Infested features Zach Galligan and Amy Jo Johnson, as well as Lisa Ann Hadley, Daniel Jenkins, and Robert Duncan McNeill.
Critic Reviews for Infested
Audience Reviews for Infested
½
Even in the terminally terrible "Creature Feature" genre, this was pretty garbage. The CGI is so horrendous, it's practically worth your time just so you know what I'm talking about. Okay that's an exaggeration, it's not actually worth your time, but it is *really* bad. It doesn't phase me when movies set up their own mythology that doesn't make sense when applied to real life. But when a movie can't stick to its own story, that's embarrassing. Like when they discover that you beat the bugs with light, despite initially encountering them on an idyllic sun-swept beach. Classic.
Infested Quotes
There are no approved quotes yet for this movie.