Inhale
(2010)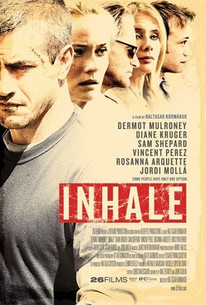 Movie Info
Every day, rising Santa Fe District Attorney Paul Stanton and his wife, Diane, wait for word that there's a donor for their daughter, Chloe. Diagnosed with a rare degenerative condition, Chloe is on a long list to receive a double lung transplant. As her health worsens, Paul becomes desperate to save his young child...so desperate that he'll risk everything to organize an operation. When Paul learns of a Dr. Novarro who performs transplants in Juarez, Mexico, he heads south in a frantic search for the only man who may be able to save Chloe. But after arriving, he realizes Dr. Novarro's medical ring runs deep into a criminal underworld where his patients aren't donors - they're victims. With his career, his family and his life on the line, Paul finds himself at a critical crossroads: expose a massive, illegal harvesting operation and save the lives of hundreds of children, or save the life of his daughter. -- (C) IFC Films
News & Interviews for Inhale
Critic Reviews for Inhale
Audience Reviews for Inhale
A lesson in morality here. Even I was torn between right and wrong at the end of this...and I consider myself a rather good, moral person. Well done. Great acting by all. Dermot Mulroney was fantastic.
Cynthia S.
Super Reviewer
½
A couple goes to dangerous lengths to find a lung donor for their daughter. Great Film! Acting was really good from everyone and the story is just gut wrenching and even though it's been done before but never from this perspective/angle. This movie might be short on run time but it illustrates this sort of organ trafficking very well as it would have been longer. Easy to the eyes and compelling yet informative.This is the type of film that 10 years ago would have owned the box office but today, they're a gamble. Unless you stick a product name like Russel Crowe or Tom Cruise in it, it's hard to say which way it will go. It also reminds me of how the grading curve has changed due to the collage of genres we know get in a single film which is probably one of many reasons films are now so often struggling at the box office. Wicked ending! In the thriller drama Inhale, up and coming District Attorney Paul Stanton (Dermot Mulroney) is a family man who has built a solid reputation for defending the law. Now in the middle of prosecuting a high-profile sex offender case, he tries to remain focused although he has serious problems of his own. Paul and his wife Diane (Diane Kruger) have one daughter, Chloe (Mia Stallard), who has been diagnosed with a rare degenerative disease. She needs a double lung transplant, but there are many patients ahead of her on the waiting list for donors. But when news arrives that Chloes condition has worsened, Dr. Rubin (Rosanna Arquette), tells them that it is beyond their ability to save Chloe's life, but she also tells them that if they have money, there is another way for them to find a lung donor. Stunned with the possibility of having to break the law to save their daughter's life, Paul, contacts his friend James Harrison (Sam Shepard) for advice. Harrison tells him that he has information about a mysterious Dr. Navarro (Vincent Perez) who performs transplants in Tijuana, Mexico, but warns him that pursuing this course could cost him everything; his reputation, career and possibly even his life as well as the life of his daughter. Confused and frantic, Paul and Diane decide to take the risk to find this doctor if there is a chance they can save Chloes life. Their journey takes them across the border to Mexico and into the dangerous territory of the underworld. Paul's search brings him face to face with the corrupt police officer Aguilar (Jordi Mollá) and the discovery that Dr. Navarro is connected to an illegal organ harvesting operation where the donors are in reality victims. Paul finds himself caught in a desperate situation of choosing between saving the life of his daughter or exposing the criminal activity that could save the lives of hundreds of children.
½
A interesting movie with a good performance from the ever underrated Dermot Mulroney. The movie runs along at a steady pace and as a powerful story to tell. In the end it leave you with the question of would you do the same for a love one or your children. It was this that mad the impact for me and stayed with me for a while.. PS Diane Kruger was great but not use enough!!
Brian De Guelle
Super Reviewer
Inhale Quotes
There are no approved quotes yet for this movie.