Irma Vep
(1996)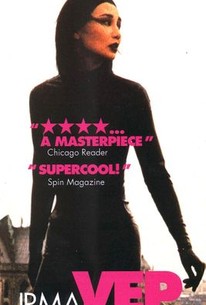 Movie Info
A has-been French filmmaker makes a desperate comeback attempt with an homage to "Les Vampires." Maggie plays a cat-like jewel thief and discovers that the director is a laughing stock. Becoming totally immersed in her part, Maggie starts sneaking about her hotel dressed in a black cat-suit.
Critic Reviews for Irma Vep
Audience Reviews for Irma Vep
½
Style over substance, but it works. And just as well, because there is not much of an actual storyline. Actress Maggie travels to France to star in a remake of an old movie. The movie is about the making of that movie, which never really pans out. It's interesting and Maggie is well suited to the role. I also enjoyed her relationship with Zoe. The "completed" movie at the end is interesting too.
Nicki Marie
Super Reviewer
½
Shades of the later Tristram Shandy and earlier Truffaut films, we have the story of a film within a film and all the drama that occurs outside of where the camera is shooting. While good at times, it often feels lost.
John Ballantine
Super Reviewer
A director tries to remake Les Vampires. I'm not really sure what I saw. On the one hand, I see some clever satire about French film here, especially with the interviewer complaining about intellectual film in an intellectual film, Rene's mumblingly intense focus on process, and the costume designer using a bondage mask. On the other hand, I think one would have to know the history behind Les Vampires in order to be in on the joke, and I'm not sure what to make of the romance between Maggie and Zoe. And what is going one with Maggie Cheung playing herself? Once again, I feel like there's a reason for this choice, but it isn't communicated with any clarity. Overall, I left this film confused and not in a good way.
Jim Hunter
Super Reviewer
Irma Vep Quotes
There are no approved quotes yet for this movie.