Jackie
(2016)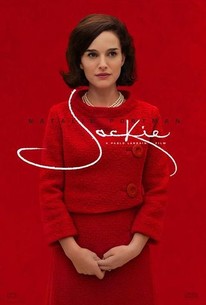 TOMATOMETER
AUDIENCE SCORE
Critic Consensus: Jackie offers an alluring peek into a beloved American public figure's private world -- and an enthralling starring performance from Natalie Portman in the bargain.
Movie Info
JACKIE is a searing and intimate portrait of one of the most important and tragic moments in American history, seen through the eyes of the iconic First Lady, then Jacqueline Bouvier Kennedy (Natalie Portman). JACKIE places us in her world during the days immediately following her husband's assassination. Known for her extraordinary dignity and poise, here we see a psychological portrait of the First Lady as she struggles to maintain her husband's legacy and the world of "Camelot" that they created and loved so well.
News & Interviews for Jackie
Critic Reviews for Jackie
Audience Reviews for Jackie
½
This is Natalie Portman's movie. She is Jackie Kennedy. The narrative is entirely composed of vignettes in which she interacts with various people. In that sense, it's a chamber piece rather than a biography. Jackie is indeed an intimate portrayal, It revolves around her, every line, every scenario, every interaction fills Jackie. There are admirable qualities. The production has an eye for period detail. It looks exquisite. However, a gorgeous facade is not a raison d'être. As she weeps and drinks and smokes and snarls we get an unorthodox depiction. There's a moment where she washes off the blood from her dead husband in the shower. Chilean filmmaker Pablo Larrain certainly makes bold decisions in his treatment of this icon. I suppose one can admire his desire to innovate. It's not conventional. Yet the work is assembled like a collage, with bits and pieces coming together but never coalescing into a unified whole. What are we to make of Jackie Kennedy? Who was this woman? What made her tick? I still have no idea. fastfilmreviews.com
Mark Hobin
Super Reviewer
Filmed in 16 mm, which creates an authentic feel of watching a documentary piece, this is a magnetic and emotionally resonant film that relies on Natalie Portman's superb performance and a magnificent score that plunges us into the dread and nightmare endured by the character.
Carlos Magalhães
Super Reviewer
½
True stories come in many forms when placing them on the big screen, so it's very hard to say whether or not something feels quite accurate. I find myself compelled to say that Jackie is one of the best films of 2016, solely due to the fact that the storytelling aspect about this film is tremendous. Having said that, there are many issues that I have with this film that can't be ignored. Critics are praising this film, and while Natalie Portman absolutely deserves her recognition here, I personally think this film never reaches its fullest potential, set in motion by her incredible performance. Here is why I believe Jackie is a showcase of talent for Portman, but otherwise too simple to be memorable. Opening with the assassination of JFK, it rapidly becomes a simple film about his wife, Jackie Kennedy, grieving over her fallen life partner. There are two time periods focussed on here, one coming immediately after his assassination, one as time as passed, and some flashbacks including graphic images of the assassination itself. The way this film is structured is what made it such a unique viewing experience, because if it was told linearly, it would have been pretty boring in my opinion. This truly is a very boring film, but I never actually found myself checking my watch, because Natalie Portman pulled me right back into the story every time I found myself drifting. Throughout this film, flashes to old tapings of Jackie Kennedy are displayed on-screen. What I found interesting was that they replicated them with Natalie Portman, rather than cutting to the actual archival footage. This really made it seem authentic and I was able to buy into that. That being said, the editing throughout this film is what took me out of it most of the time. Yes, I understand jump-cutting is a style that certain people like to use, but when it's only utilized periodically throughout a film, it becomes jarring and slightly distracting. Jackie does this in spades, and while it doesn't hurt the film in any way, I found myself annoyed. Not since Black Swan, almost eight years ago now, have I seen Natalie Portman so deserving of large recognition. Her devotion to this real-life character made my eyes swell up with sadness for her. I felt as though I had been watching actual interviews with the real widowed first lady. When it comes down to it, a biopic is all about the casting and how well they choose to tell a specific portion of the story. This short period of time between the death and burial was a very good choice as far as storytelling goes, because the film is only about 97 minutes in length. For the story at hand, that is all that's needed here. I do have many technical issues with this film, but I can't deny the story is done with taste and the core performance is outstanding. In the end, the fact that Jackie is a very drab and dull-looking picture, states that it definitely won't have much re-watchability for most of it's viewers. Older crowds who were around when this event in history actually occurred, will definitely have a much more emotional reaction to it than I did, so that is who I believe this film is aimed at more, as well as paying tribute to this tragic portion of Jackie Kennedy's life. Overall, Jackie is a well-made film as far as directing it's performances and story goes, but the look is too dull and washed out and the editing is slightly too choppy for my liking; However, the score was very beautifully done, making dull moments durable. Jackie won't be making my best of the year list, nor is it worth re-watching, but if you are looking for a straight-forward, to-the-point, and effective biopic, you will be satisfied. This is a story worth exploring, even if a few things could have been altered.
Jackie Quotes
There are no approved quotes yet for this movie.
Discussion Forum
Discuss Jackie on our Movie forum!