Jeanne Dielman, 23 Quai du Commerce, 1080 Bruxelles
(1975)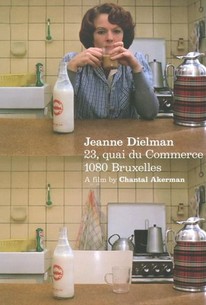 Jeanne Dielman, 23 Quai du Commerce, 1080 Bruxelles Photos
Movie Info
In this experimental film about a middle-aged widow driven to desperation by the crushing boredom of making beds, cleaning bathtubs, cooking, dusting, and even just eating, the real-life time needed to make that bed or to cook is exactly the time used in the film -- an effect which makes some viewers just as bored and restless as the widow, and which brings home the point of the film quite well.
News & Interviews for Jeanne Dielman, 23 Quai du Commerce, 1080 Bruxelles
Critic Reviews for Jeanne Dielman, 23 Quai du Commerce, 1080 Bruxelles
Audience Reviews for Jeanne Dielman, 23 Quai du Commerce, 1080 Bruxelles
½
This is a very hard film to rate. It is about 3 hours of mundane detail as a housewife does chores around the house. It's the only foreign language film I have been able to watch while reading a newspaper and still follow. There is very little dialogue and even less action. There is something about it I can't totally hate. It is ambitious in its sheer tedium. At 1 hour 10 in, I had something else to do, so I fast forwarded through the non speaking parts. I think it probably does have something to say about a woman's lot. At least back in the 70's when this was filmed. My mother married in this era and had me. The decision to marry and have children was "what you did" as with the main character in this movie, though she's now widowed. Oh, and this character "hooks" on the side, though that's mostly off screen. There is an event to break up the extreme tedium at the very end, though I could not say it would make the three hours plus worthwhile for a majority of viewers. You kind of have to weigh it up. It's certainly a successful exercise in boredom and isolation, but it's also three hours of your life you may wish to have back.
Nicki Marie
Super Reviewer
½
An emotionless widow does chores around her apartment in real time for three hours; something happens in the last ten minutes. Like Andy Warhol's "Sleep," this deliberate experiment in extended boredom serves a purpose in the film universe; it's just that that purpose isn't to be watched by an audience. The universal praise for this avant-garde prank would make a great case study for "Extraordinary Critical Delusions and the Madness of Crowds."
½
Chantal Akerman's "Jeanne Dielman, 23 Quai du Commerce, 1080 Bruxelles" is a feminist classic, that force the audience to see the boring, no dreams and automatic life of the title character. A portrait of the repression of the women in the world. Jeanne (Delphine Seyrig), had bad moments in her marriage, where she always receive bad critics from your husband, meanwhile she make everything at the house. When he dies, she still be a domestic slave, living a mechanic daily routine. Her work as prostitute could be seen as a metaphor for the repression that she suffer by the men. Ms. Akerman use the long scenes and just a few words to show this empty live of Jeanne. All this looks very boring and unnecessary, but along by the film, we see that all was extremely precise for the story. Jeanne Dielman, as the majority of the housewifes, is really careful. And with just a simple gesture of: forget of turn off the light, forget of close the window or the potatoes don't stay ready in the dinner time, these little things, shock the audience, not just because she forget, but because she is do the same activity all day. These are the sign that something this going wrong and that Dielman, in the climax, express her angry in a men. "Jeanne Dielman, 23 Quai du Commerce, 1080 Bruxelles" is a cult film with good actings and direction. A mark in experimental cinema, not for a impatient audience, this little jewel of cinema is an unforgettable film - for good or bad -. Fresh.
Lucas Martins
Super Reviewer
Jeanne Dielman, 23 Quai du Commerce, 1080 Bruxelles Quotes
There are no approved quotes yet for this movie.