Jerichow
(2008)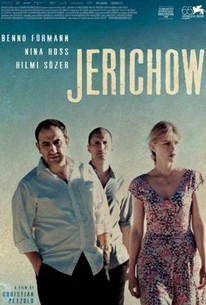 Movie Info
The Turkish diaspora in Germany proves the catalyst for this noir-flavored drama concerning the unlikely friendship between a veteran of the Afghan-Soviet war and a middle-aged Turk in need of a helping hand. Returning home for his mother's funeral when he happens across a business associate to whom he owes a sizable debt, Thomas (Benno Fürmann) subsequently stumbles into intoxicated Turk Ali (Hilmi Sözer) while fleeing in haste. Ali has nearly driven his van into a local canal, and now he needs a driver to chauffeur him around his modest kingdom of crumbling snack bars. Recognizing the opportunity to make some quick and easy cash, Thomas agrees. But Thomas doesn't know that Ali is an intensely jealous and distrustful man, two traits that threaten to spell tragedy when Thomas enters into a passionate affair with Ali's gorgeous German bride (Nina Hoss). ~ Jason Buchanan, Rovi
News & Interviews for Jerichow
Critic Reviews for Jerichow
Audience Reviews for Jerichow
Wow. This was really good. Excellent surprise ending. Its one of those movies where you root for the lovers to be together. By the time this movie ends, however, everything has been turned upside down and you are left feeling really bad for all of them. Nicely done movie.
Cynthia S.
Super Reviewer
In "Jerichow," things are not going well for Thomas(Benno Furmann) as he is forced to use the money he was planning to refurbish his mother's house to pay off his debts. Flat broke, he finds the only work he can get as a dishonorably discharged soldier is as a cucumber harvester. That changes when he helps Ali(Hilmi Sozer) pull his car out of a ditch and help him avoid a DWI charge. That does not stop Ali from drinking and driving again leading him to be caught with a blood alcohol level of 1.9%. No longer able to drive, he hires Thomas to help out with the snack bars he owns and manages with his wife Laura(Nina Hoss). I am sure that the only thing the world needs less than the Yankees winning another World Series is yet another reworking of "The Postman Always Rings Twice"(or any remake for that matter) but "Jerichow" pulls it off well by maintaining a slow burn throughout until its devastating ending that is encapsulated in a single word. That might have something to do with the movie smartly paying less attention to the source material than the current state of affairs in Germany as seen through the eyes of its flawed characters. For Thomas, the country has changed completely since growing up in East Germany and is now a country of immigrants.(His stint as a farm laborer reminds me of a recent article in a local newspaper about how hard it is to find people willing to work on a farm.) Ali is one of the newcomers and a success to boot but still feels uncertain in his adopted country and does not know who to trust, some times for good reason.
½
An alleged German remake of The Postman Rings Twice but this film stands strongly on its own merits and without necessarily being an hommage to Hitchcock.
John Ballantine
Super Reviewer
Jerichow Quotes
There are no approved quotes yet for this movie.