Jindabyne
(2006)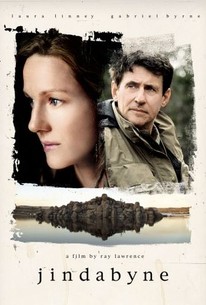 Movie Info
Stewart Kane, an Irishman living in the Australian town of Jindabyne, is on a fishing trip in isolated hill country with three other men when they discover the body of a murdered girl in the river. Rather than return to the town immediately, they continue fishing and report their gruesome find days later. Stewart's wife Claire is the last to find out. Deeply disturbed by her husband's actions, her faith in her relationship with Stewart is shaken to the core. She wants to understand and tries to make things right. In her determination to help the victim's family Claire sets herself not only against her own family and friends but also those of the dead girl. Her marriage is taken to the brink and her peaceful life with Stewart and their young son hangs in the balance.
Rating:
R (for disturbing images, language and some nudity)
Genre:
Directed By:
Written By:
In Theaters:
On DVD:
Box Office:
$224,114.00
Runtime:
Studio:
News & Interviews for Jindabyne
Critic Reviews for Jindabyne
Audience Reviews for Jindabyne
This is a difficult movie to watch. Understanding Stewart's and Claire's relationship isn't easy. The story is not really about the girl's murder, yet we keep seeing the murderer weave in and out of the movie. I will have to watch it a second time to try to understand it I thought I had seen this movie before, but it was part of the movie 'Short Cuts' I remembered (based on the same short story by Raymond Carver).
½
here is a case of an intimate film that tries to encompass too much. A simple morality tale; of not doing what society will have you believe to be the "right thing" and the conseqences of not only your actions, but the mores society places on you. The film attempts to instill a sense of displacement; all of the charactors are trying to make the best of things, even though they are clinging to symbolic gestures and icons of attachment to time, place, and the people around them. In truth, an almost existential tone pervades this effort, and as such, it could have held its ground; but the spiritual overtones are devisive and distracting. The impetus of the film comes from four fishing buddies who discover a recently dead body while on their much anticipated yearly fishing trip. Rather than make the day hike out of the canyon to report the body, they spend the weekend as they normally would, and only report the incident after leaving at their normal time. The truth eventually comes out and the community and family are outraged by their callous insensitivity; ignoring that the girl was already dead so it would make no difference to her (and in such a remote location it wasn't as if the delay would have made any difference in potentially catching the killer - and at this point no-one has any idea of how she died). The fisherman believe they've done enough by simply tying her to a tree limb so her body wouldn't float downstream and over a waterfall, and it is ironic that this bow to "humanity" leads to the discovery of their "insensitivity" and sets off a chain reaction of hate. Of course the real issue is that the dead girl was an Aboriginie, so their neglect appears to be racial (when it was really just a snap reaction to having to waste their only time off in order to report their findings). Laura Linney, as one of the wives of the fisherman, then goes on a Quixonic quest to appease her own sense of self as much as appeasing the Aboriginal population. This takes her to the Aboriginal "funeral", a sequence that goes on way too long and is ackward - perhaps by intention. The undercurrent to all this surface action is the sense of disenfrancisement - even the city itself, Jindabyne, was moved from its original location because it was in the way of a new reservoir. There are plenty of scenes of the children facing the dangers of the unknown swimming and playing in and around the reservoir, many of which seem to interupt the narrative, and serving the sole purpose of reminding the viewer that we're all just fish out of water. I admire the vision, but felt that the execution could have been tighter.
paul sandberg
Super Reviewer
½
Beautifully shot outback drama which captures the countryside in all its glory. Unfortunately the plot meanders on for way too long and even Laura Linney can't sustain your interest.
Gordon Anderson
Super Reviewer
Jindabyne Quotes
There are no approved quotes yet for this movie.
Discussion Forum
Discuss Jindabyne on our Movie forum!