Keane
(2005)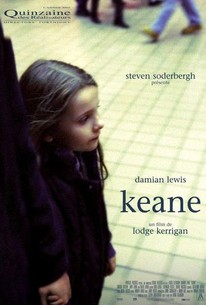 TOMATOMETER
AUDIENCE SCORE
Critic Consensus: The scrutinizing camera angles of Keane might at first feel too close for comfort, but this powerful portrait of a man distraught by the abduction of his child plumbs the depths of mental illness and the corners of fleabag hotels in an intimate and touching examination of the seedier side of life.
Movie Info
American independent filmmaker Lodge Kerrigan returned after a six-year hiatus with this formally challenging tale of a disheveled man desperately searching New York City for his young daughter. Keane takes its name from its central character, a middle-aged man (Damien Lewis) who wanders Port Authority with a seemingly tenuous grasp of his sanity, muttering to himself and causing altercations with passers-by. He claims to have lost his daughter at a bus station, and consistently pleads for assistance from indifferent authority figures. When he's not roaming the streets, he uses his meager savings to rent out a room nightly in a cheap hotel; there, he meets Lynn (Amy Ryan), a single mother with a daughter, Kyra (Abigail Breslin), almost the same age as Keane's missing child. As he grows closer to Lynn and Kyra, he starts to see the young girl as instrumental in deciphering his own loss. Keane premiered at the 2004 Toronto Film Festival before securing a 2005 theatrical release. ~ Michael Hastings, Rovi
People Who Like this movie also like
Audience Reviews for Keane
A disturbed man spends his days wandering around the Port Authority searching for his daughter who was abducted a year ago; is he sane enough to help take care of his welfare-hotel neighbor's daughter, who's about the same age as his lost girl? A well-intentioned and humane character study that suffers in comparison to the writer/director's more intense schizo dad debut, CLEAN, SHAVEN.
A father who had his 7 year old daughter abducted roams the streets obsessively retracing his steps, consumed by guilt and self loathing. Sunshine and lollipops, Keane is not. It's an intense character study of a man whose life has been destroyed by a tragic event, leaving him a mentally ill piece of emotional wreckage, unable to cope with the memories of what has happened. Damian Lewis puts in an amazing performance, especially since the camera never leaves his side for the entire duration of the film and it's an extremely worthy and intelligent piece of film making. Enjoyable it is not, however. The experience is a little like that of Requiem For A Dream; the emotional time bomb was a bit like the anticipation of having a large plaster ripped off a particularly hairy area, or waiting in line at school for a painful injection. It's an extremely intense and creditable experiment that will probably make you a little less judgemental when seeing a "crazy person" on the street, but I sure as hell wouldn't take a date to go and see it...
Kerrigan explores some darker parts of the mind as Lewis searches for his missing daughter. The realistic way in which Kerrigan shoots has the film covered by an uncomfortable sense of dread. Lewis gives the performance of a lifetime, rarely off-screen, and often acting against himself, Lewis captures the desperation and tragedy, as well as the flaws that any human has. Breslin gives another example of why she will become one of the world's greatest actresses and Ryan continues to impress. Every role is played with subtlety, and there's no non-digetic music to intrude on proceedings. A little bit of wonderful, delivered at a thoughtful pace.
Luke Baldock
Super Reviewer
Keane Quotes
There are no approved quotes yet for this movie.