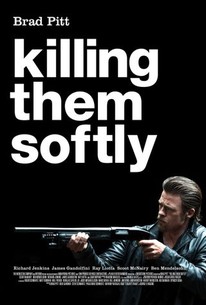 Killing Them Softly
2012, Crime/Drama, 1h 37m
234 Reviews
100,000+ Ratings
What to know
critics consensus
Killing Them Softly is a darkly comic, visceral thriller that doubles as a cautionary tale on capitalism, whose message is delivered with sledgehammer force. Read critic reviews
Where to watch
Rent/buy
Rent/buy
Rent/buy
Rate And Review
Killing Them Softly Photos
Movie Info
When rival crook Johnny Amato (Vincent Curatola) hatches a plan to rob a card game run by mob lackey Markie (Ray Liotta), he picks a low-rent thug named Frankie (Scoot McNairy) to do the job. Frankie picks a less-than-ideal partner (Ben Mendelsohn) to help him, but despite their combined incompetence, they manage to make off with the mob's money. In retaliation, Markie's bosses hire Jackie Cogan (Brad Pitt), a mob enforcer, to eradicate those responsible.
News & Interviews for Killing Them Softly
Audience Reviews for Killing Them Softly
"Killing Them Softly" confuses the audience as to who the main characters are. "Killing Them Softly" is a good drama movie of 2012. Set in 2008 the movie's plot is two men named "Frankie" portrayed by "Scoot McNairy" and "Russell" portrayed by "Ben Mendelsohn" break into a house to steal from mobsters playing poker, eventually an assassin named "Jack" portrayed by "Brad Pitt" is hired to hunts these men down and kill them. The film opens with "Frankie" walking through a tunnel with "Barack Obama's" voice being heard. The scene is shot well but keeps cutting back to the opening credits. For the most part the movie it show "Frankie" and "Russell" living their lives, doing drugs and smoking. These scenes are sometimes boring and stupid. The other scenes are splendid; they show "Jack" coming after "Frankie" and "Russell". The final scene of the film is incredible, "Brad Pitt" delivers the movie's last line exceptionally. As stated before the first 15 to 20 minutes of the film look like "Frankie" and "Russell" are the main characters of the film. "Brad Pitt" gives the audience a terrific performance and his scenes are definitely the best part of the movie. Music is used very minimal, which actually makes the movie scenes better, during dramatic scenes no music makes them better to watch. During the film there is a scene where "Jack" murders a man in a car, the scene is both violent and if looked at closely looks extremely bad C.G.I. and idiotic. If you are a person who enjoys "Brad Pitt" movies then I recommend you watch "Killing Them Softly" as it has superb acting, perfect drama and great scenes. Although the movie has some issues, these being confusing the audience, stupid scenes and poorly done "Computer Generated Images". I give 2012's "Killing Them Softly" a 7/10.

'The Assassination of Jessie James by the coward Robert Ford' was a visually stunning film that took its time but was ultimately satisfying due to great performances. Therefore it's not surprising the the director has assembled another great cast for this crime drama. The story is nothing new and the political allegory is a bit heavy-handed and muddled but I really enjoyed watching this cast embrace their characters and if the whole thing is a little water thin I can forgive it that. A solid and visually impressive crime thriller.

Somewhat unconventional storytelling which follows the motivations of minor characters as much as the major ones, which owes too much to the obvious 'Pulp Fiction'-y influential vibe to feel really original. Some scenes tend to drag like those involving James Gandolfini, he does a decent job but what's the larger purpose? This seamy story of double-crosses and hit men is set against a backdrop of economic stress during the Reagan era, a curious undercurrent whose impact is largely lost among the transmission static it is broadcast on to fill the background.

The trailer for the film looks good, but the film itself disappoints. The filmmaker tried to copy the style of Tarantino and Coen Bros. but it doesn't work here. The problem, too much dialog and very little action. The action scenes aren't shot and edited well here. The dialog is actually very good. Another big problem is that there is no one to root for here. I didn't care for any of the characters in the film.
See Details