Kissin' Cousins
(1964)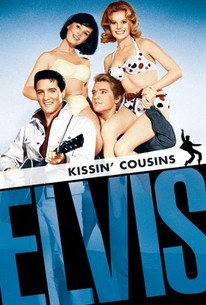 AUDIENCE SCORE
Critic Consensus: No consensus yet.
Kissin' Cousins Videos
Kissin' Cousins Photos
Movie Info
Elvis Presley plays a double role in Kissin' Cousins. When the U.S. government wants land owned by the hillbilly clan headed by Pappy Tatum (Arthur O'Connell), they send Air Force Lieutenant Josh Morgan (Presley), a cousin of the Tatum's, to try and secure the land for a proposed missile base. Josh comes face-to-face with Jody Tatum, his blonde-haired look-alike. Glenda Farrell plays Ma Tatum, and distaff interest for Elvis is provided by Cynthia Pepper, Yvonne Craig, a busty Beverly Powers, and Hortense Petra. Watch for Maureen Reagan as one of the Kittyhawks, a group of desperate, man-hungry females out to get some love. This film was the first of the low-budget movies that would unfortunately plague the rest of Elvis' movie career. The song selection also reflects a decline in the quality of both recording and acting parts offered to Presley. Once he fulfilled his contractual obligations for the forgettable features, Elvis ended his film career and devoted his efforts exclusively to live shows and recording.
Rating:
PG
Genre:
, ,
Directed By:
Written By:
In Theaters:
On DVD:
Runtime:
Studio:
MGM Home Entertainment
Cast
Critic Reviews for Kissin' Cousins
Audience Reviews for Kissin' Cousins
Boy was this a stinker. All the majesty of Paint Your Wagon with the luster of Elmer Fudd. It actually starts slightly promising--"what're you doin' with my face" being the highlight. Like, it could have been cute. Instead it's just an hour and a half of empty nothingness, hordes of women in bikinis desperate to get pregnant, terribly phoned in music and the emotional depth of a 3 year old.
Jenna Ipcar
Dumb even for an Elvis movie, with three fine performers Arthur O'Connell, Jack Albertson and Glenda Farrell wasted in support. Poor Glenda even has to sing to a dog!
½
Elvis Presley was known as the King of Rock and Roll for a reason. For his original productions, a great voice, and an amazing personality, Elvis made lots of money as a singer, and part of his career went into acting as well. His films were also big moneymakers, and fans flocked to see a new Elvis film a year. I am a huge fan of Elvis, but have not seen a lot of Elvis films, so I decided to check one out. I discovered Kissin' Cousins, and my reaction might surprise you. In Kissin' Cousins, Elvis plays Air Force Lt. Josh Morgan, who is asked by the military, led by Capt. Robert Salbo (Jack Albertson), to head down to the mountains to negotiate with his cousin family, the Tatum's, headed by Pappy (Arthur O'Connell) and Ma (Glenda Farrell) for a piece of land for a missile base. While receiving support from female cousins Selena (Pamela Austin) and Azalea (Yvonne Craig), Pappy, Ma, and male cousin Jodie (Elvis Presley) are against it. Josh has to use his female cousin support in order for the negotiations to be successful. As I said earlier, I hadn't seen a lot of Elvis films; the only other film I had seen prior was his film debut Love Me Tender, which I view as an underrated Western. But Kissin' Cousins? Well, it's OK, but um... The big problem I had with the film is it's too goofy. Even though Elvis had great talent, as the songs show his great singing talents, particularly in a sequence where the two Elvis's are singing together, he looked like there would be better material for him to accomplish. The thing that made Love Me Tender a great film was it's serious tone. Kissin' Cousins was just too goofy. The women, while they were attractive, were poor actors. I think the producers only picked them for their good looks. Other cast members, such as Arthur O' Connell and Glenda Farrell as the parents, while they were decent, suffered the redneck stereotype, which really plagued the film. Jack Albertson, who I really enjoyed as Grandpa Joe in Willy Wonka and the Chocolate Factory, was actually a highlight in the film. He was funny when he became obsessed with Pappy's moonshine. The story is not that spectacular. While there are some fun comedy, such as Elvis falling in love with his fellow cousins, the goofy tone I mentioned doesn't add depth to the story. To put it in simple words, Kissin' Cousins is an OK film, with fun songs by Elvis, but suffers from some redneck stereotypes and a goofy tone. Elvis is a great artist, but I feel like he's done better material. If you're not an Elvis fan, this isn't for you; for Elvis fans only.
Jacob Martin
Discussion Forum
Discuss Kissin' Cousins on our Movie forum!
News & Features