Knock Off
(1998)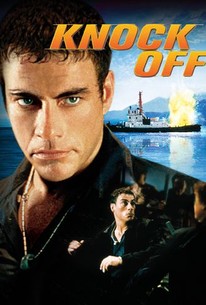 Movie Info
Against the drama and pageantry of the 1997 British handover of Hong Kong to Chinese rule, a CIA agent has to thwart a conspiracy that, if successful, will incite a wave of world terrorism. KNOCK OFF is the story of Marcus Ray (Van Damme), who lives the good life in Hong Kong working as a sales representative for "V SIX" jeans. As the city's transition unfolds around him, Ray gets wind of a terrifying conspiracy - a Russian Mafia scheme to bring a deadly secret technology, microbombs, to the worldwide terrorist black market - that he must risk his life to defeat.
Critic Reviews for Knock Off
Audience Reviews for Knock Off
½
Tsui Hark's Knock Off is an action film that isn't as bad as it seems.
Unsurprisingly, the story is straightforward, easy to follow, and to be honest, quite stupid. The setting takes place in Hong Kong, and with Tsui Hark as a director the film feels less like a Hollywood film. In this case, this is a good thing.
Tsui Hark's editing and camerawork can be erratic at times and the 90 minutes whiz by because of this. The pacing is really quick and scenes come and go like there is no tomorrow. On the flip side this makes it harder for the film to have a really deep story with built up characters. It also creates plot holes.
Hark's editing does help the action. The constant switching of camera shots make these scenes seem extremely fast and full of energy, which makes it really entertaining. As for the action itself, there is a moderate amount with a hilarious rickshaw scene in the beginning.
The acting isn't award winning by any means. Van Damme is pretty amusing as his character is a bit wacky, but Rob Schneider is unconvincing as a CIA agent and feels out of place.
By the end, Knock Off doesn't shine anywhere. It is just a mediocre action picture for Van Damme fans.
½
"Knock Off" is set in Hong Kong and Jean-Claude Van Damme stars as a fashion designer who is unwillingly selling knock off clothes which easily tear. Van Damme and his sidekick (Rob Schneider) are up against enemy marketeers who are trying to cause a worldwide catastrophe by using tiny explosive devices in items such as jeans and toys and then shipping them all over the world. "Knock Off" definitely proved that Van Damme is a better fighter than ever and that he can still make exciting movies. This movie has the best special effects, action sequences, and even the best fighting out of all of Van Damme's movies so far, and that's saying a lot because Van Damme has made many great fighting and action movies such as "Hard Target," "Bloodsport," "Sudden Death," and many others. I didn't like the movie's plot or story that much, but the action and fighting sequences are GREAT! If you like exciting fighting movies and if you like some of the other Van Damme movies, I recommend getting "Knock Off." NOTE: That was my Amazon review from the year 2001.
Jason Owens
Super Reviewer
What a Van Damme explosive action-thriller set in Hong Kong.
Dean McKenna
Super Reviewer
Knock Off Quotes
There are no approved quotes yet for this movie.