Knucklehead
(2010)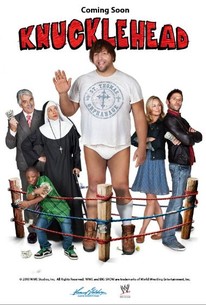 Movie Info
A desperate fight promoter convinces a hulking church handyman to try his hand at wrestling in this sports comedy starring famed WWE wrestler Paul "The Big Show" Wight Jr. As the dimwitted grappler rises up through the ranks on a mission to fight for orphans everywhere, the conniving promoter uses the winnings to settle a debt with his corrupt nemesis.
News & Interviews for Knucklehead
Critic Reviews for Knucklehead
Audience Reviews for Knucklehead
½
Nowhere near a good movie but it's sweet natured in its way.
Huge misfire. The film needed a major rewrite and another director. They had a good idea for a film but didn't execute it correctly. The film is kind of like movies like Nacho Libre, Billy Madison, and Here Comes the Boom. Those film are better than this one. Too many fart jokes. The scene on the bus was the funniest scene in the film. The film is also too predictable. The Big Show was great in The Waterboy and Jingle All the Way. He needs better material than this. All the other actors must have been paid a lot to be in the film. They all seem to have done the film for a huge paycheck.
½
Cast: Mark Feuerstein, Melora Hardin, Paul Wight, Dennis Farina, Rebecca Creskoff, Bobb'e J. Thompson, Will Patton, Saul Rubinek, Wendie Malick, Kurt Doss, Raziel Jordan, Lurie Poston Director: Michael W. Watkins Summary: Drowning in gambling debts to his bookie, Memphis (Dennis Farina), former mixed martial arts champ Eddie (Mark Feuerstein) starts training gentle giant Walter (The Big Show) for a high-stakes fighting competition with a $100,000 grand prize that would solve all of their problems. My Thoughts: "Another wrestler film that failed. Honestly, it wasn't like I didn't know It wasn't going to be that when I started it. The concept was as ridiculous as most of the acting was. There was bits that were laughable. But what you end up with is a somewhat funny predictable film with a semi watchable cast. Not much else to say about this train wreck."
♥˩ƳИИ ƜѲѲƉƧ♥
Super Reviewer
Knucklehead Quotes
There are no approved quotes yet for this movie.