Eva, la Venere selvaggia, (King of Kong Island)
(1968)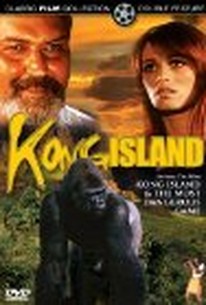 AUDIENCE SCORE
Critic Consensus: No consensus yet.
Movie Info
Bearing only a passing connection to King Kong -- and even that probably came to promoters as an afterthought -- this phenomenally silly Italo-Spanish sci-fi foolishness (originally titled Eva, La Venere Selvaggia) seems to have been conceived more as a vehicle for the frequently nude Esmerelda Barros. Barros plays Eva, a sultry jungle girl raised by apes, who is captured by a mad scientist (gangster-movie veteran Marc Lawrence) and his cohorts. The fascist-leaning loonies have been busily rounding up the island gorillas, planting electronic transmitters in their brains with the intent of creating an unstoppable remote-controlled army of robotic ape soldiers. To Eva's aid comes a lusty explorer (Brad Harris), whose intentions seem something less than noble. Eventually a disgruntled King Kong-like super-ape arrives to avenge his smaller kinfolk and stomp the daylights out of the evil homo sapiens. Silly but fun, in an Ed Wood sort of way. Also known simply as Kong Island and Eva the Wild Woman. ~ Cavett Binion, Rovi
Critic Reviews for Eva, la Venere selvaggia, (King of Kong Island)
There are no critic reviews yet for Eva, la Venere selvaggia, (King of Kong Island). Keep checking Rotten Tomatoes for updates!
Audience Reviews for Eva, la Venere selvaggia, (King of Kong Island)
Hoo boy, what's not in this picture?!? White bwana man roaming the jungle: check. Scantily clad jungle vixen that talks to animals: check. Mad scientist who wants to ... wait for it ... take over the world: check. Robot gorillas: check. Go-go dancing girls: you bet. Exploitation? Sure, but fun exploitation. Kong? No. Island? No. Nobody's perfect.
Kevin M. Williams
Super Reviewer
There's no Kong, and no island (it's an isthmus at best). There IS a mad scientist implanting transistors into the brains of gorillas to make them his slaves, a macho mercenary, a scantily clad Jungle Jane type wild-child, and a lot of backstory and subplots. Pretty dumb, but at least its unpredictable. .
Kong Island aka: Eve, the Wild Woman, King of Kong Island. First off the Movie was filmed in the middle of Africa, only time I saw water was when big ole white musle man goes for a cool down in a stream and finds Eva the women of the jungle who seems to like monkeys over men, now heres a lady with the right idea. Anyway guess after King Kong came out any movie with a gorilla in it capitolised on the title Kong. some mad man who shoots the hero in the opening 2 minutes, implants monkeys with a tube and puts them under his control. Its a Grindhouse film as video color is washed out in many places, and I can imagine sitting in the theather back in the 60ties watching this or did I fall asleep and dream this. Anyway I got it in a grindhouse Double Shock Show DVD from Alpha Video. I would'nt run out and buy it but if you collect Grindhouse then throw it on the pile.
Bruce Bruce
Super Reviewer
Eva, la Venere selvaggia, (King of Kong Island) Quotes
There are no approved quotes yet for this movie.