Kumiko, the Treasure Hunter
(2015)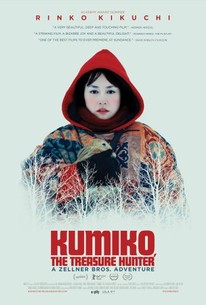 TOMATOMETER
AUDIENCE SCORE
Critic Consensus: Powerfully acted and lovely to look at, Kumiko, the Treasure Hunter offers a treat for cinephiles with a taste for the pleasantly peculiar.
Kumiko, the Treasure Hunter Photos
Movie Info
In this darkly comedic odyssey, Academy Award nominee Rinko Kikuchi (Babel, Pacific Rim) stars as Kumiko, a frustrated Office Lady whose imagination transcends the confines of her mundane life. Kumiko becomes obsessed with a mysterious, battered VHS tape of a popular film she's mistaken for a documentary, fixating on a scene where a suitcase of stolen cash is buried in the desolate, frozen landscape of North Dakota. Believing this treasure to be real, she leaves behind Tokyo and her beloved rabbit Bunzo to recover it - and finds herself on a dangerous adventure unlike anything she's seen in the movies. With Kumiko, The Treasure Hunter, indie mavericks the Zellner Bros. spin a strangely touching underdog fable, populated by eccentrics and elevated to sonic heights by a Sundance award-winning score from electro-indie outfit The Octopus Project, that will leave audiences rooting for the impossible. (C) Amplify
News & Interviews for Kumiko, the Treasure Hunter
Critic Reviews for Kumiko, the Treasure Hunter
Audience Reviews for Kumiko, the Treasure Hunter
Imagine Werner Herzog directing a Coen brothers' screenplay with David Lynch on editing and sound design. This movie is kinda like that. A Japanese office lady stumbles on a VHS copy of Fargo, and thinks that there is an actual briefcase of cash buried in the snow, so much so that she goes on a journey to Minnesota to find it. Hilarious premise with great execution, and it is hard not to relate to her constant frustration with how her peers, society, and strangers expect her to conduct her life. Of note here is her taking literally the introductory frame of Fargo that states "This is a True Story". The ambiguity in her ability to delineate dramatized history from true reality is indicative of the modern movie experience (and Kumiko's mental illness). There have been so many movies this year (and many on this list) that purport themselves to be based on true events. Let's be honest here, any film that has humans in a mundane setting under non-fantastical circumstances is "inspired/based on true events". I thought the fun part about movies is that they are an escape from our unremarkable, linear experience and perspective. But if a piece of fiction is just too out there to suspend one's disbelief, I suppose it is best to put up a disclaimer that lets people know it is "kind of real".
K Nife Churchkey
Super Reviewer
A disturbing look at a disturbed woman tries to find the treasure featured in the film Fargo. While there are interesting elements, the tidy ending is a jarring departure from the rest of the film.
John Ballantine
Super Reviewer
That the details of the true story behind this movie are far more fascinating than what is presented here highlights my lack of passion for this production. Kumiko, The Treasure Hunter concerns an obsessive quest. Generally I enjoy these tales about social outcasts that don't quite fit in with society. These quixotic individuals have such a romantic quality that can be very appealing. Kumiko is outfitted in scarlet sweatshirt with a large hood like a contemporary Red Riding Hood. That visual further pushes the fairy tale notion of this modern fable. Indeed the proceedings have a surreality that infuses her life as if it were a dream. But Kumiko is such an enigma that it's difficult to embrace the character. We don't know this woman. She rarely speaks, only occasionally mustering out a random word in her broken English. The locals along the border of North Dakota and Minnesota just want to help her but she is so painfully shy that it's hard to summon any interest in her mission. Kumiko is a curiosity to be sure but not someone I embraced. Her only friend is a pet rabbit named Bunzo. I think it's telling that her animal side-kick is the emotional heart of the saga. I'm #TeamBunzo all the way. #TeamKumiko not so much. fastfilmreviews.com
Mark Hobin
Super Reviewer
Kumiko, the Treasure Hunter Quotes
There are no approved quotes yet for this movie.
Discussion Forum
Discuss Kumiko, the Treasure Hunter on our Movie forum!