Kurutta ippêji (A Crazy Page)(A Page of Madness)
(1926)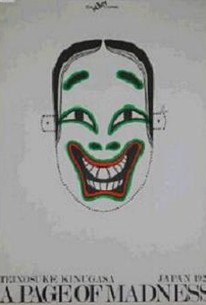 AUDIENCE SCORE
Critic Consensus: No consensus yet.
Movie Info
This virtuoso Japanese silent film, made in 1926, was re-released in 1973. It uses no title-boards, so the story is uninterrupted -- an unusual technique in the silent era. Indeed, except for the absence of dialogue, reviewers agree that this classic movie has a very modern look and "feel." The Seaman (Masao Inoue) works as a volunteer at the mental institution where his wife (Yoshie Nakagawa) is locked up. She was placed there after she had some sort of fit and tried to drown their infant son. The story of their family life, and of this incident, is told in flashbacks. He hopes that by working at the institute, he will have some opportunity to reawaken her to the present and take her away. ~ Clarke Fountain, Rovi
Critic Reviews for Kurutta ippêji (A Crazy Page)(A Page of Madness)
All Critics (2) | Fresh (2) | Rotten (0)
... [director Teinosuke] Kinugasa's technical and artistic mastery is enough to make A Page of Madness a masterpiece of Japanese and, for that matter, world avant-garde cinema...
It's a vibrant and unsettling work of great emotional power.
Audience Reviews for Kurutta ippêji (A Crazy Page)(A Page of Madness)
Haunting silent film A Page of Madness is a superb piece of cinematic history, a fine film from Japan. This is a film that is well shot, and tells a thoroughly engaging story that just grabs your attention due to the fact that it is a simple, yet effective way of telling a story. The setting of the film is in an asylum, and it's a wonderful way to set a horror film. This is sheer surrealism at its finest; a film that is a nightmare to watch and it is a film that is captivating from start to finish. For its short run time, the film delivers something quite good and if you enjoy silent movies, don't hesitate to give this film a shot, it's well worth your time, and by the time the film ends, you'll ask yourself what you watched, and some questions will certainly linger in your mind soon after. For me, the finest silent film is Metropolis, but this, this is another solid affair, one that will certainly be cherished by genre fans, and if you enjoy surreal horror, A Page of Madness certainly is well worth your time. At times, I must admit due to its age, it's kind of hard to make out what's happening, but for the most part, you get something quite unique and engaging. The film is of course viewed with no audio, as it's a silent picture, but the fact is, is that usually you'd have a card telling you what's going in intervals, here, everything is a in Japanese, so you're left wondering with the power of images what the movie really is about, and try to decipher the plo9t.
½
People who think Russia deserves all credit for the silent era's editing innovations need to see Teinosuke Kinugasa's "A Page of Madness." Just as flamboyantly bizarre as its story's deranged patients, this brief feature (59 minutes) is a dense, disorienting blitz of quick cuts, double images and wild camera angles. Simply brilliant direction. Unfortunately, the film's gonzo editing, total absence of intertitles and lost footage add up to a plot that's quite difficult to follow. Research indicates the premise is about a man becoming a custodian at a women's asylum in the hopes of rousing his institutionalized wife from her delirium, but their relationship is not so clear based on the film itself. More like a mere case of a janitor who develops a special interest in one patient. Perhaps it's best to forget the story and just marvel at the nightmarish visuals -- the shadows, rain flurries, manic dancing and twisted facial expressions are more than enough.
Eric Broome
Super Reviewer
Truly a movie that lives to it's name, this is one of those times where i have to use those "artsy" big-shot critic term for something, but this film deserves it: this is a cinematic experience like no other. Former kabuki actor turned director Teinosuke Kinugasa, and a cast of performers, create a surreal and deeply atmospheric trip. All sort of techniques are used to create an almost hallucinatory sensation. No title-boards or any other intrusive element ever breaks the flow of the film. Every review you could read out there will surely become a referential list of all the influences the film could have. From Cabinet of Dr Caligari to several other european film techniques of the time. What matters here are the images, cinema is all about that after all, and the images Kinugasa has created have life of their own.
Tsubaki Sanjuro
Super Reviewer
Kurutta ippêji (A Crazy Page)(A Page of Madness) Quotes
There are no approved quotes yet for this movie.