L' Ennui
(1999)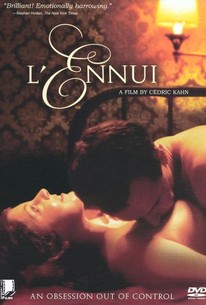 Movie Info
Cedric Kahn directed this erotic French drama about sexual obsession. Separated from his wife, Martin (Charles Berling) is intrigued when he sees an elderly painter with plump teen Cecilia (Sophie Guillemin). When he later learns that the man has died, Martin meets Cecilia, and asks her intimate questions about her relationship with the painter. Martin begins a passionate affair with the detached Cecilia, who offers only monosyllabic responses to his detailed probing questions. When Martin learns Cecilia is seeing a man much younger than himself, his full-bloomed fixation pushes him over an emotional precipice, and he begins following her everywhere. Shown at the 1998 Montreal Film Festival.
Critic Reviews for L' Ennui
Audience Reviews for L' Ennui
½
[font=Century Gothic]In "L'Ennui," Martin(Charles Berling), a philosophy professor, has not had sex in the six months since he got divorced from his wife Sophie(Arielle Dombasle) in the hopes that he can now focus on writing a book. It's not working. What he does instead is drive around the seedier parts of town, eventually coming upon a bar where Leopold(Robert Kramer), an artist, cannot pay. Martin rescues him by paying his tab and accepts a painting as collateral. Three days later, he returns the painting only to discover that Leopold has died in the interim, finding Cecilia(Sophie Guillemin), a 17-year old model and lover of Leopold's in his place.[/font] [font=Century Gothic]"L'Ennui" is a graphically sexual movie about obsession that gets tedious long before the drawn out conclusion. No matter how good a performance Charles Berling gives, there is no getting away from how truly tiresome Martin is. The simple truth is that he thinks too much and his being a philosophy professor cannot excuse this(we are all philosophers). He was most likely responsible for driving away Sophie and cannnot totally put his old life behind. At the same time realizing that he is too old and wrong for the much younger Cecilia, he cannot get away from the hot sex. By contrast, Cecilia just goes along with the flow, simply agreeing to whatever is suggested.[/font]
L'Ennui was a frustrating movie. The lead character was so unsympathetic, which can be fine in a film, but he was too obsessed with this girl, getting to a sick degree. His violence, including raping her at one point, are the worst. Most disturbingly, Cecelia appears to enjoy the rape in that scene. Sophie Guillemin who played the girl Cecilia was nice to look at, with or without clothes. The sex scenes were not explicit. He claims that she's not a good lover, but he's the one who appears to be terrible. She seemed to have a free love sexuality, which he could not handle. It's hard to understand why she stayed with him so long. Overall, it was also a provoking movie, with frustrating romance. If you can handle these kind of characters, it's worth to watch.
Daisy Maduro
Super Reviewer
L' Ennui Quotes
There are no approved quotes yet for this movie.