L'Iceberg
(2005)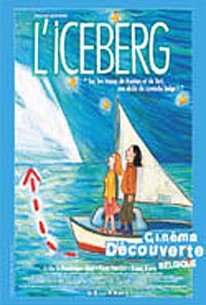 Movie Info
Fiona is the manager of a fast-food restaurant. She lives comfortably with her family in the suburbs. In other words, Fiona is happy... until one day she accidentally gets locked into a walk-in fridge. She escapes the next morning, half frozen and barely alive, only to realize that her husband and two children didn't even notice she was missing. But when Fiona develops an obsession for everything cold and icy: snow, polar bears, fridges, icebergs--she drops everything, climbs into a frozen goods delivery truck and leaves home. For a real iceberg.
Critic Reviews for L'Iceberg
Audience Reviews for L'Iceberg
½
I didn't enjoy this movie as much as I did The Fairy. That's not to say it isn't very funny and clever, because it is. It's pretty much the same format as the Fairy, just a lot of visual comedy with even LESS dialogue than The Fairy. I think the great thing about this film is that despite its VERY minimal dialogue there's actually a great story to the film. You know what's going on and why it's happening, and at its heart it is quite a charming love story. And the movie is still very funny and the cast is, of course, tremendous. Fiona Gordon is hilarious quite frankly. Really not much to say, again didn't find it as funny as I'd have expected, but I still very much enjoyed it and would watch it again in a heartbeat.
Jesse Ortega
Super Reviewer
½
A thoroughly enjoyable, if bizarre, bare-bones story provides the backdrop for this cinematic performance art. Almost surreal in its depiction of a woman who becomes restless after finding out she is not quite indispensable to her family and sets out on an ultimately successful quest. Minimal dialog interferes with the visual feast that awaits the rare viewer who does not need a compelling story line to keep one's interest. Fiona Gordon wrote, directed, and starred in this piece and it is her vision that makes it all work. Her beauty, muted as it is, grew on this viewer as the film progressed. She may not be what one would call a traditional beauty, but there is something about her quiet dignity and determination that caused one to be captured by her performance. There are sight gags galore from the opening scene to the very end. "Brava!" Ms Gordon!
Mark Abell
Super Reviewer
"When Fiona, who manages a fast-food restaurant, accidentally locks herself in the restaurant's walk-in freezer overnight, she realizes how pointless her life has become and runs away; to seek happiness, put her life right again and perhaps to visit the icebergs with which she begins an obsession." Even before you start watching this unknown little gem of a film you know it's going to be bizarre. Directors and stars Dominique Abel, Fiona Gordon and Bruno Romy use sparse dialogue, deadpan humour, quirky characters and Tati-esque gags to create an original and charming experience. Totally different from comedies coming from Hollywood today, to sum up just a generally fun film.
L'Iceberg Quotes
There are no approved quotes yet for this movie.