La Captive
(2003)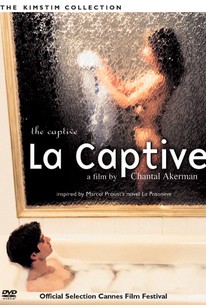 Movie Info
Inspired by Proust's short story La Prisonniere, renowned filmmaker Chantel Akerman creates this challenging meditation on love, desire, and obsession. The film opens with grainy Super-8 footage showing Ariane (Sylvie Testud) and her female friends rollicking on a beach. Now Ariane lives in third empire splendor in the tony Parisian apartment that her rich significant other Simon (Stanislas Merhar), shares with his grandmother (Francoise Bertin). Simon proves to be a fanatically jealous lover; he subjects her to surveillance and endless questions about her whereabouts. Though Ariane acquiesces to his will, she answers his inquires vaguely to maintain at least a modicum of privacy, which only fuels Simon's suspicions that she is leading a double life as a lesbian. His pain and obsession is further compounded by his own kink: he demands that Ariane be utterly passive (sleeping or pretending to sleep) while he can never quite bring himself to actual physical coupling. When Simon tries to break off the relationship, they end up on a road trip to the sea, resulting in tragic consequences. This film was screened at the Director's Fortnight at the 2000 Cannes Film Festival and at the 2000 Toronto Film Festival.
Critic Reviews for La Captive
Audience Reviews for La Captive
"La Captive" is an atmospheric and creepy movie, aided by Chantal Akerman's fluid direction, about well, a creep. Simon(Stanislas Merhar) is a bookish, probably also spoiled, wealthy young man who wants to know literally everything which is frankly impossible, even if he were to somehow read every book. This is especially true of someone who does not get out as much as he should. However, in his quest for forbidden knowledge, he does get out to stalk Ariane(Sylvie Testud), following her in his car and on foot. He does know her very well, in fact, as they live together in his spacious apartment that he also shares with his grandmother(Francoise Bertin). While unwilling to let her out of his sight during the day(he has even gone to the trouble of hiring her friend Andree(Olivia Bonamy) to be her companion and report back to him), the same cannot be said of the night. There is sex, of a sort, but little intimacy. In the process, he has completely isolated her from her friends and former career as a singer. Even though we see the entire movie through Simon's eyes, there is every indication that things have gotten so bad that Ariane has no choice in her actions, as the relationship is just as abusive as if it had been violent.
One of those sexually explicit art house films the French love to make. This is quite possibly one of the most boring, pretentious, uninspired films I have ever seen. Absolutely nothing happens over the running time of this film, it?s literally just a guy following his girlfriend around for two hours. No one in this film acts like an actual human being, they behave like odd robots that exist to make whatever the hell kind of point the director thinks he?s making by deliberately putting the audience to sleep with his plodding non-cinematic style. I?m really open minded about experimental work, but my patience was at an end by halfway through this thing. I even found myself fast-forwarding through parts of the second hour. If I had seen this in the theater I would have walked out after 45 minutes and I would have missed nothing. This is exactly the kind of pretentious bullshit that gives art films a bad name.
La Captive Quotes
There are no approved quotes yet for this movie.