Lacombe Lucien
(1974)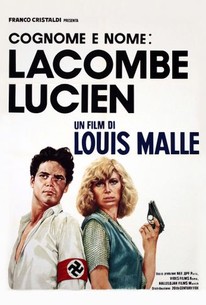 Movie Info
With a superb music score by Django Reinhardt, this is a Louis Malle film about the German occupation of France. Based on his own experiences in France during the occupation, Malle's film does not paint a pretty picture of the French Resistance and eventually he emigrated to America because of the critical reaction to this film. Essentially the tale of a young boy who wants to join the Resistance but is shunned by them because of his youth, he joins the Gestapo. Unfortunately, he then falls in love with a young Jewish girl. Push comes to shove and he suddenly has the unsympathetic Resistance and the Gestapo hot on his trail. Not a pretty picture of either side.
Critic Reviews for Lacombe Lucien
Audience Reviews for Lacombe Lucien
[font=Century Gothic]In "Lacombe Lucien," it is 1944 in Southwest France where Lucien(Pierre Blaise) works in a nursing home. Given five days off, he returns home to his mother(Gilberte Rivet) and finds things radically changed with his father in a German prison camp. Bored, he tries to sign up with the French resistance but is denied by Robert Peyssac(Jean Bousquet) as being too young. Having no other options, he returns to the nursing home but his bike gets a flat causing him to arrive after dark when he is drawn to a party at a hotel which turns out to be Gestapo headquarters. The German police take a liking to the youth after he turns in Peyssac and is taken to get his first suit.[/font] [font=Century Gothic][/font] [font=Century Gothic]Directed by Louis Malle, "Lacombe Lucien" is a chilling look at occupied France where there is a compulsion for the populace to inform on each other. While there may be some easy answers as to why some people would collaborate with the Nazis such as anti-Semitism and anti-Communism(There is a Gestapo member who is black and I would have loved to have heard his story.), Lucien is another matter entirely as his alliance with the Nazis is a matter of circumstance. Apparently, he lacks a conscience and gets a little drunk on whatever power he has. However, as one character puts it, Lucien is somehow not entirely despicable. On the other hand, he is not likable, either.[/font]
Lacombe Lucien Quotes
There are no approved quotes yet for this movie.